Future Students
Welcome to CGCC!
Located in north-central Oregon, along the beautiful, scenic Columbia River, Columbia Gorge Community College (CGCC) offers world-class instruction at an affordable price. Whether you're planning to save money and transfer to a 4-year school, or get a 2-year technical degree and go straight into the workforce, CGCC has something for you.
Let us know your interests and one of our staff will reach out. For more info, read on. 
Live Here | Learn Here
CGCC has two locations. Our campus is situated on 62 acres overlooking the Columbia River Gorge and the town of The Dalles. We also have an auxiliary building in Hood River, twenty miles west of The Dalles. Like the great outdoors? The local area provides opportunities for world-class recreation! Nearby Mt. Hood offers the only year-round skiing and snowboarding facility in the United States. The Columbia River is open for water sports like stand-up paddleboarding, windsurfing, and kite surfing. There's also fishing, hunting,
and hiking.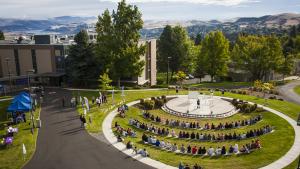 What's Available at CGCC?
Some of the most frequently asked questions about becoming a CGCC student are listed below. If you don't see what you're looking for, reach out to our staff for help! We'd love to answer your questions over the phone, in person, or by email.
Becoming a student is easy!
Just fill out an application, and you're accepted. CGCC is an inclusive institution, and we believe everyone has the right to an affordable education. Ready to apply? You can fill out an application here.
Yes!
CGCC offers financial aid to a majority of its students. If you haven't filled out the Free Application for Federal Student Aid yet, you can do so here. Use CGCC's student code 041519. You must also fill out a CGCC admissions form in order to receive financial aid at CGCC.
Not eligible for the FAFSA? There are other options available, including scholarships, and ORSAA for Oregon residents.
Still not sure you qualify? Our financial aid representatives can help you find out what you may be eligible for.
This will have general info about transfer and CTE, pre-college, and other degrees and programs, and will link to the programs pages.
Yes!
CGCC offers on-campus housing in our beautiful new residence hall in The Dalles. Learn more about it here.
This links to the tuition and fees schedule.
This links to the student resources page.