About CGCC
Our goal is to help you be successful in whatever educational program or activity you choose.

CGCC is located in the Columbia River Gorge, a destination for windsurfing, hiking, skiing, fishing, and unique cultural experiences.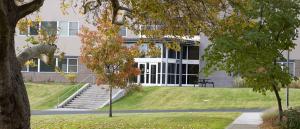 CGCC is a public two-year community college in Oregon. Its mission is to "build dreams and transform lives by providing lifelong educational programs that strengthen our community." The college's vision is to become the first option of choice for education and training in the communities it serves, and its actions are guided by those principles.
The college has two locations, both within the stunning Columbia River Gorge National Scenic Area. The college mascot is "Brook Chinook," a Chinook salmon. The Chinook is important to the Native American tribes that still live nearby, and played a large part in the history and settlement of the area.
CGCC provides high-caliber instruction, small classes with personalized attention, and robust programs that lead not just to jobs, but to careers. The college aligns those programs with the standards of the State of Oregon Department of Education, so that students may qualify for professional certifications, or transfer to four-year universities to complete their Bachelor's degrees. 
The college serves many kinds of students, including English language learners, GED® seekers, recent high school graduates, or those seeking a new career. The college also provides individual classes for those who want to update their job skills, and short-term certificates (one year or less) that may boost career options. Finally, the college provides life-enriching community education classes that are enjoyed by students of all ages.
CGCC's president is Dr. Kenneth Lawson. 
Financial Support
As a public institution, most of the college's financial support comes from local property taxes, state community college support funds, and tuition.
The Columbia Gorge Community College Foundation is dedicated to college fund-raising and friend-raising.
In the fall of 1977, the Wasco Area Education Service District was established and granted the right by the Oregon Legislative Assembly to provide educational resources for Gorge residents. The college was renamed Treaty Oak Education Center, and in 1983, Treaty Oak Community College, which operated in leased facilities in downtown The Dalles for 16 years. In 1989, the college board adopted the new name of Columbia Gorge Community College, recognizing the college's role as the only institution of higher education in the region.
In 1993, Wasco County voters approved a bond measure to establish a permanent campus in The Dalles, and in 2001, voters in Wasco and Hood River counties approved annexing eastern and central Hood River County into the college district. In 2004, Wasco and Hood River voters passed a capital construction bond measure to match funds designated by the Oregon Legislature for capital improvements. These funds were used at The Dalles campus to build a new health sciences building, deconstruct several older buildings, renovate remaining buildings, and create an amphitheater in the center of the campus. The measure also enabled the college to establish a permanent campus and construct a classroom building in Hood River, moving out of previously leased space. All of these new facilities were completed in 2008.
With funding from the Department of Community Colleges and Workforce Development, an electro-mechanical lab building with shop areas and high bay space was constructed in 2010. In 2014, CGCC in partnership with the Oregon Military Department and Wasco County built the Fort Dalles Readiness Center on The Dalles campus. This complex houses Electro-Mechanical Technology, flexible space for other CGCC classes, a welding lab, and the region's largest conference floor, capable of hosting up to 1,000 attendees. In 2021, the college opened a new regional skills center and a student housing building.
Columbia Gorge Community College was granted independent accreditation in July of 2013. Today the college serves about 4,300 students annually from all over the Mid-Columbia region.
Columbia Gorge Community College is a sanctuary college committed to the diversity of its student body and, as such, is committed to the protection of all of its students including undocumented student immigrants and students who qualify as Deferred Action on Childhood Arrivals (DACA). CGCC is committed to the safety and privacy of its students, and as a Sanctuary College bound by The Family Educational Rights and Privacy Act (FERPA), it will continue to protect all of its students in line with institutional policies, only releasing non-directory student information if served with a valid court order.
As a federally-designated Hispanic Serving Institution (HSI), CGCC is committed to serving the unique needs of this rapidly growing segment of our community through extended outreach and support systems, which, ultimately, benefit all our students.
Our membership in the Hispanic Association of Colleges and Universities (HACU) gives CGCC access to professional development opportunities and a network of colleges around the world from which we can glean promising practices for the benefit of our students.  Additionally, our membership in HACU affords our students access to resources that can enhance their college experience, like paid internships, as well as additional financial support in the form of scholarships.
Specific initiatives have included the formation of the Juntos student club, HSI 101 workshops, activities related to Hispanic-Serving Institution week (held each year in September) and collaboration with our school district partners on student success efforts. 
The Columbia Gorge Community College Foundation was established in 1979 to advance the interests and development of the college, its students, and the community. The Foundation's mission supports students by ensuring the college is a vital, accessible, premiere, educational resource in the Columbia Gorge. As a separate 501(c)(3) Oregon nonprofit organization, the Foundation is made up of community leaders who generously volunteer their time, talent, and resources by serving on the board of directors. Contributions to the CGCC Foundation are tax-deductible to the full extent of the law. 
The CGCC Foundation believes the entire community benefits when every student has access to the tools and resources needed to support success in school and in life.
To achieve the Foundation's mission, the Foundation board and its staff solicit and administer charitable donations from individuals, organizations, and businesses. Contributions to CGCC Foundation provide resources for students to attend and succeed in school as well as opportunities for faculty and staff to engage in professional development. More information can be found at the Foundation's website.
CGCC's students are all ages, from recent high school graduates to retired grandparents. Each student has a unique goal, and CGCC staff and faculty seek to help students realize those goals. CGCC students attend part-time or full time. The college opened up its first on-campus residence unit, Chinook Hall, in fall 2021.
Columbia Gorge Community College is governed by a Board of Education consisting of seven community members. The college president is Dr. Marta Yera Cronin, who is assisted by a President's Council consisting of executive leadership. A full listing of Board members, administrators, staff, and faculty—including faculty credentials—is included in the Staff and Faculty Directory.
The college also has numerous partners who not only assist in the fulfillment of its mission but also ensure that the college is providing a leadership role in the community. Education, government, economic and workforce development agencies in Oregon and Washington have strong collaborative working relationships to enhance the livability and economy in north-central Oregon and south-central Washington. There is also a strong history of businesses working with the college by providing financial support for programs and input into curriculum so that students are current on the necessary skills they need to excel in a competitive workplace.
CGCC has received national recognition in a variety of ways: Congressional recognition of the Renewable Energy Technology program, invitation to the first-ever White House Summit on Community Colleges, and recognition by the Department of Labor (DOL) as a model for rural nursing care. CGCC was the first community college on the West Coast to establish wind technician training and in 2020 became the only "Level One" training provider for Unmanned Aerial Vehicles in the Pacific Northwest. The college also has received federal grants, as well as other DOL and Department of Education (DOE) funding for specific workforce training programs.
Located on the Columbia River and in the Columbia Gorge National Scenic Area, CGCC's district includes most of Wasco and Hood River counties. The college also serves residents of five other rural counties: Sherman, Wheeler and Gilliam in Oregon; and Klickitat and Skamania in Washington. The college serves about 10,000 square miles with a population of more than 85,000.
 
The Dalles
CGCC's main campus is at 400 East Scenic Drive, The Dalles, overlooking the Columbia River Gorge. The Gorge is a steep-walled canyon more than 70 miles long, and is the only break in the Cascade Mountains. Formed by the Columbia, the fourth largest river in the US, the Gorge has a worldwide reputation for its scenic beauty and recreational opportunities. The Dalles, Oregon, sits near the east end of the Columbia River Gorge National Scenic Area. A hub of activity in the Mid-Columbia area, The Dalles is 85 miles east of Portland; 35 miles south of Goldendale, Washington; 131 miles north of Bend; and 21 miles east of Hood River. The Dalles and nearby areas offer outstanding windsurfing, whitewater rafting, excellent fishing and boating, scenic hiking and horseback riding trails, skiing,  unique cultural experiences, and numerous historical museums.
The Dalles campus is 62 acres adjoining Sorosis Park. Currently, the college uses six buildings on campus. Building 1 houses classrooms, the Library, the Student Life center, Pre-College services, the Small Business Development Center (SBDC), food services, and the boardrooms. Building 2 houses the Bookstore, administrative offices, the President's Office, Business Office and cashier, and faculty offices. Building 3 (Health & Sciences Building) houses Instructional Services and Student Services. Student Services includes admissions, registration, testing, disability resources, financial aid, academic advising, and veterans' services. The building also has classrooms, computer labs, science labs, and Information Technology. Building 4 houses the art department. Building 10 houses Electro-Mechanical Technology classrooms, labs, and the welding lab. Building 11 houses additional Electro-Mechanical Technology lab facilities. In 2020, the college began construction on two new buildings. One is a regional skills center, the other is a student residential housing unit.
Hood River
The Hood River Center is on the Heights, at 1730 College Way. Student Services staff members are available to assist with admissions, registration, testing, financial aid, academic advising, Pre-College services including GED®, English for Speakers of Other Languages, an Information Commons with library services, faculty offices, and college bookstore. The Hood River Center is situated on the Indian Creek watershed allowing for unique interactive science and outdoor classroom activities.  
There is a local bus service that provides daily weekday stops between the Hood River and The Dalles Transit Center, with The Dalles LINK providing connection to The Dalles Campus. Transit is also provided from Klickitat County by Mt. Adams Transportation.
Other Facilities
Some college courses, contracted training, and other special programs are offered at locations throughout the district. Specific locations and information is listed with the course information in the quarterly Class Schedule.
Educational Opportunities
Columbia Gorge Community College (CGCC) offers a flexible schedule of credit and non-credit classes on campus, online, and in the community.
Transform Your Life! Complete your first two years of college, enroll in a professional/technical program, finish high school, explore careers, work on job skills, learn how to run a business, or pursue your interests! No matter who you are, CGCC has something for you.
Start here | Go anywhere
Planning on transferring to a 4-year school? CGCC can get you started with one of our transfer degrees. Start here and save!
Skills to pay the bills
Looking for a career in technical occupations or trades? CGCC offers Career and Technical Education (CTE) programs in healthcare, manufacturing, construction, and more to get you the skills you need to get hired.
Finish high school or get a GED®
Need a GED®, literacy help, or interested in CGCC's pre-college programs?