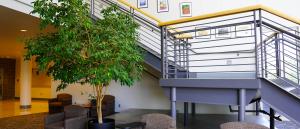 Choose your Pathway
Maybe you know what you want to do, or maybe you have a lot of interests and you're not sure yet. Either way, CGCC has a Pathway for just about everyone! Whether you're looking for a fast track to a degree, or you plan to transfer to a 4-year school to complete a Bachelor's degree, or you have something else planned, CGCC's Pathways will put you on track to your future and help you turn dreams into reality.
How does it work? 
Choose a Pathway - the general area you're interested in - and let us help you get started on your journey. CGCC offers six general Pathways, each representing a cluster of career opportunities and a variety of related degrees and certificates. Still not sure which Pathway is right for you? Start with a skills and interest assessment available below.
Reach your destination
Determining a program of study
Explore on your own, or our advisors can help you narrow down to a specific program that is right for you. Advising information.