Jobs at CGCC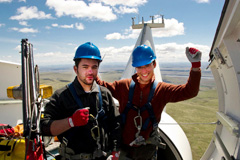 Contact
Courtney Judah
Director of Human Resources
cjudah@cgcc.edu, (541) 506-6151
Working at CGCC
Thank you for your interest in employment with Columbia Gorge Community College (CGCC). We work hard to create a work environment that ensures employees derive a sense of accomplishment, contribution, and pride from their association with the college.
Columbia Gorge Community College (CGCC) is dedicated to providing a safe and secure working environment. In accordance with the Federal Campus Crime Awareness and Campus Security Act of 1999 (Clery Act), CGCC publishes crime statistics and other safety data annually for your information in the Annual Safety and Security Report. This report includes information on how incidents, accidents, crimes, safety reviews, and safety compliance are handled on our campuses.
We Value
Our college…as a special place for faculty, staff, and students, providing a unique and invaluable service to the citizens of the District.
Our customers…wherever we may engage them, as our number one priority and the primary focus of our advocacy, our planning, our service, and our resource stewardship.
Our collaborations…formal and informal working relationships with members of the CGCC community.
Our responsibilities…that all members of the college community should be treated with respect, sensitivity, dignity, have opportunities for professional growth and development, receive fair and equitable treatment and work in a safe environment.