Bookstore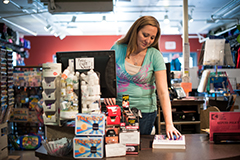 CGCC Photo/Michelle Bose
The Columbia Gorge Community College (CGCC) Bookstore is dedicated to serving the academic needs of the college and the community at large. Everyone is welcome here to shop or visit us, you don't need to be a student!
We provide textbooks, supplies and supplemental items related to instruction. Additionally, we supply the college with necessary items (such as letterhead) and serve the greater community by offering a wide selection of art supplies, college apparel, backpacks, office supplies and more. CGCC Bookstore Facebook page.
Locations
The Dalles Campus (main bookstore)
The Dalles, OR 97058-3434
Building 2, Room 190
(541) 506-6061
Regular Hours:
Monday - Thursday: 10 am - 6 pm
Need Books or Supplies but can't make it here during these hours? 
Call us at 541-506-6061 or email us at bookstore@cgcc.edu and we will set up a time that is convenient for you!
Book and Supplies sold in store
Course materials required for online classes are available at The Dalles Campus only
Art supplies, backpacks, calculators, office supplies, college apparel
Course materials required for classes taken in Hood River or hybrid/Hood River courses
Hood River - Indian Creek Campus
1730 College Way, Hood River, OR 97031-7502
(541) 308-8211
(541) 308-8202 - Fax
Books may be ordered by phone and sent to the Hood River Campus
Course materials required for Hood River or hybrid/Hood River courses
Books for Hood River Classes are also available at The Dalles Campus Bookstore 
Financial Aid Availability for Use in Bookstore
Winter 2019 - Financial aid will be available for use in the Bookstore beginning on January 2nd, 2019 at 1 pm