Bookstore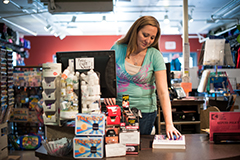 CGCC Photo/Michelle Bose
The Columbia Gorge Community College (CGCC) Bookstore is dedicated to serving the academic needs of the college and the community at large. Everyone is welcome here to shop or visit us, you don't need to be a student!
We provide textbooks, supplies and supplemental items related to instruction. Additionally, we supply the college with necessary items (such as letterhead) and serve the greater community by offering a wide selection of art supplies, college apparel, backpacks, office supplies and more. CGCC Bookstore Facebook page.
Visit our online bookstore to purchase your books! We offer two options for order fulfillment due to the COVID-19 outbreak:
Pickup: This service is available in The Dalles only. Please schedule a pickup time under the "Schedule for later" option when checking out. When you arrive in the parking lot adjacent to the Bookstore at your scheduled pickup time. Your purchase will be waiting on a cart at the bookstore entrance. The bookstore is located in the administration building, on the south side of building 2. Please allow at least one business day for order processing. 
Shipping: Enter your shipping address when checking out. A $7.50 shipping charge will be included in your total. 
Response to COVID-19:
The bookstore currently closed to students and the public. Staff will be here from 1-4 pm Monday-Thursday to assist you by phone or email (bookstore @cgcc.edu), and we are available for processing orders outside of the store for walk-up customers.
Our staff is  available to take orders over the phone (541) 506-6061, at our online store https://my-site-101343-103311.square.site/ or email us at bookstore@cgcc.edu. Orders can be fulfilled by either shipping to the customer's home address, or we can put prepaid orders onto a cart that is located just outside the Bookstore entrance in The Dalles for you to pick up at a prearranged time. In addition you can walk up to the door during open hours and a staff member will assist you outside of the facility.  Call (541)506-6061or email the bookstore, bookstore@cgcc.edu to schedule the pick up time for preordered materials.
Locations
The Dalles Campus (main bookstore)
The Dalles, OR 97058-3434
Building 2, Room 190
(541) 506-6061
Need Books or Supplies but can't make it here during these hours? 
Call us at 541-506-6061 or email us at bookstore@cgcc.edu and we will set up a time that is convenient for you!
Book and Supplies sold in store
Course materials required for online classes are available at The Dalles Campus only
Art supplies, backpacks, calculators, office supplies, college apparel
Course materials required for classes taken in Hood River or hybrid/Hood River courses
Financial Aid Availability for Use in Bookstore
Winter 2020 - Financial aid will be available to charge against in the Bookstore beginning on December 17th, 2020 at 1 pm