Bookstore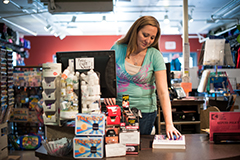 CGCC Photo/Michelle Bose
The Columbia Gorge Community College (CGCC) Bookstore is dedicated to serving the academic needs of the college and the community at large. Everyone is welcome here! We supply textbooks, used books, college apparel, and more.
Call or visit our online bookstore to purchase your books! We offer several options for contactless order fulfillment:
The Dalles pickup: The bookstore is located in the administration building, on the south side of building 2. Please allow at least one business day for order processing. 
For Hood River pickup: Please leave a note at checkout, and we can arrange to have books brought to the Indian Creek campus on Tuesdays and Wednesdsays. You can also call 541.506.6061 to arrange Hood River pickup.
Shipping: Enter your shipping address at check out. Fees apply.
HOURS OF OPERATION
M-F 9am - 4pm
Face coverings required, please observe social distancing.
TEXTBOOK AFFORDABILITY:
As part of our efforts to keep our textbooks as available and affordable as possible, select older texts are being converted to library books available for long-term borrowing.
These will be noted in the booklist; copies will be available for purchase by request only.
Please contact agnall@cgcc.edu with any questions.
Locations
The Dalles Campus Bookstore
The Dalles, OR 97058-3434
Building 2, Room 190
(541) 506-6061
Need Books or Supplies but can't make it here during these hours? 
Call us at 541-506-6061 or email us at bookstore@cgcc.edu to arrange accomodations!
Books and Supplies sold in store
Course materials required for online classes are available at The Dalles Campus only
College apparel and gear, class supplies, used books
Course materials required for classes taken in Hood River or hybrid/Hood River courses
Financial Aid 
Financial aid becomes available for use in the bookstore at the beginning of each term. Please inquire with the Cashier's office for details.