College Now
Earn College Credit at your High School.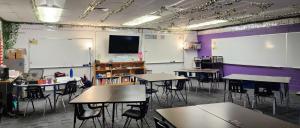 Students               Parents/Guardians               High School Teachers/CGCC Staff
College Now
Why wait to earn college credit when you have excellent, qualified instructors at your own high school? College Now is a dual credit/dual enrollment program that, through the coordination of Columbia Gorge Community College and local high schools, offers high school students the opportunity to earn transferable college credits while taking approved high school classes. These courses are designed to award dual credit (high school and post-secondary) for courses taken at the local high school. High school instructors meet college faculty qualifications and students' skills must be appropriate to the college-level work. 
Aside from getting students a head start on college-level classes, College Now credits are a fraction of the cost of normal college tuition. Check out the average costs (2023-24 school year) for a four-credit class at the various kinds of colleges and universities in Oregon: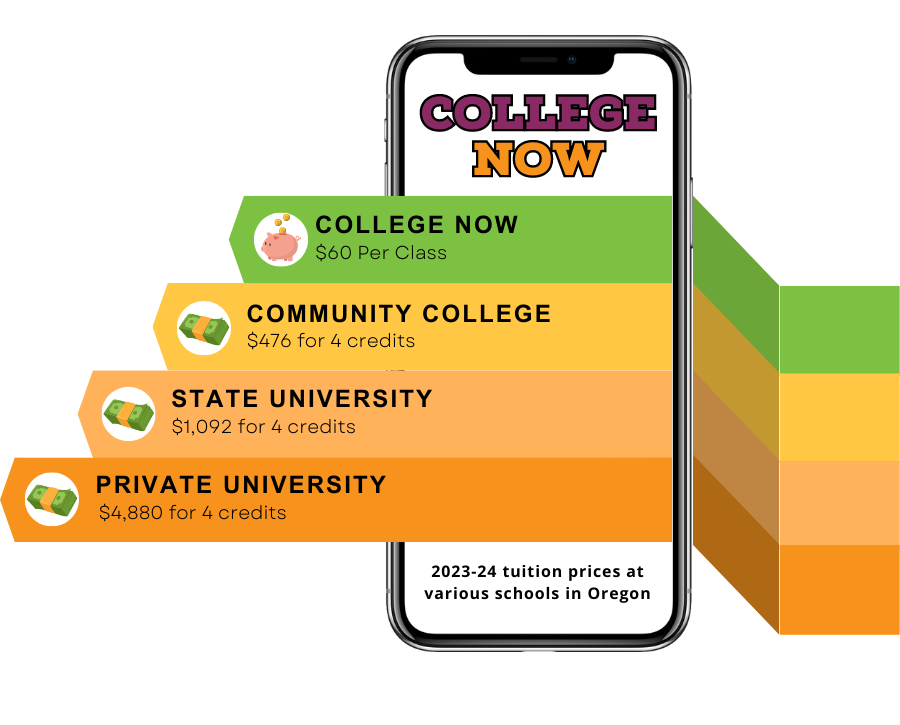 The program is designed for Junior and Seniors but it is up to the high schools to determine who qualifies for these classes. Sophomores can also earn College Now credit, but they must submit a Sophomore Exception Form (with parent/guardian and teacher signatures) before registering.
A teacher at your school must first be a College Now instructor. If your school already offers College Now courses, your first step will be to Apply to CGCC. You can find a step-by-step application guide below. Students only need to apply once in their lifetime. If you return to CGCC after graduating high school, you will continue to use this account.
After applying, you will receive your official CGCC Student Portal account. Through this account, you will be able to register for College Now classes. Once your teacher announces that registration is open, you will use the Student Portal to search for your teacher's name and enroll in the class.
At the end of the course, your teacher will submit your grade to the college. You will find your unofficial transcripts on the Student Portal, where you can view your earned grade.
Note: College Now fees are $60 per class. Students are responsible for these fees unless their school specifies otherwise. 
2023 - 2024 Class List
All listed classes are expected to run but may be canceled for various reasons. Students will not be charged College Now fees for any canceled classes.
Guides and Important Dates
Students must individually apply to CGCC and register for each course that they plan to earn dual credit in. To help teachers walk students through these processes, CGCC offers the following guides.
The regular College Now application is down. Please see the temporary application here.
 Log into your student account at https://my.cgcc.edu

Click Academics on the left and then when it appears, click Registration.

Scroll down slightly and click the blue Registration button in the middle of the screen. If asked to select a term, select the correct College Now term. 

A new window will pop up. In the new window, scroll down to "All Courses - Includes Required and Elective courses."

Scroll through the list of College Now classes, until you see the class you want to register for.

Click the green plus sign icon on the far left of the desired class. 

In the bottom half of the window, find the "Register / Drop" button on the right side. Click Register/Drop. 

Finally, click Register/Unregister All. 

You should now see your classes on your Class Schedule in the student portal!
Students can also watch a video guide by clicking here.
2023-24 College Now students must register during the registration periods below.
Fall:

Sep 1 - Oct 27

Winter:

Nov 13 - Jan 8

Spring:

Feb 19 - Apr 15
 Log into the Student Portal at https://my.cgcc.edu

Click Academics on the left.

Then click on "Unofficial Transcript"

Finally, click on the Unofficial Transcript file.

You should now see your current grades. If there is an error or if you are missing a College Now class, please contact studentservices@cgcc.edu.
For Official Transcripts, click here.
Frequently Asked Questions
Apply to CGCC by following the instructions in the application guide above. While applying, pay special attention to the listed steps, or you may be unable to register for classes!
Please contact studentservices@cgcc.edu with an explanation of the issue. If you are missing a specific class, please provide the teacher's name, the approximate date of the class, and any other relevant information.
Contact collegenow@cgcc.edu with your specific question and we can look into available courses and programs in your area.
Sophomores can, but they must fill out a Sophomore Exception form and return it to studentservices@cgcc.edu. This form requires parent/guardian and teacher signatures. You can download the form here.
Students should always use their high school email, if possible. This helps CGCC confirm a student's identity. If you cannot use your high school email (or if you suspect your high school is filtering CGCC emails) please use your personal email. 
Students are not required to enroll in College Now. Some students opt out of registering for certain classes due to the Oregon Promise Grant, especially if the class is not relevant to their future college plans. If you do not register for the class, it will not appear on your transcripts.
College Now credit is CGCC credit, which is transferable to all colleges and universities.  Every college has a right to articulate the credit to fit their academic requirements.  However, CGCC students do not experience significant challenges transferring our college credit.
Colleges in Oregon and Washington have online guides that students can use to research future transferability.
The following guides do not guarantee transfer.
Oregon State Universities
Washington State Universities

Eastern Washington University
University of Washington
Washington State University
Western Washington University
If you have any questions about transferring, contact Student Services at studentservices@cgcc.edu.
MFG150, MFG155, and MFG195 are the CGCC course names. Please use the chart below to understand which TDHS class corresponds with each CGCC course.