Dual Credit
Earn College Credit while finishing High School.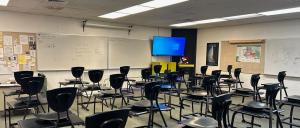 Programs for High School Students
Dual-credit programs are designed to help students who are still in high school. CGCC collaborates with both Washington and Oregon public high schools as well as home school and charter school programs.
Why wait to earn college credit when you have excellent, qualified instructors at your own high school? College Now is a dual credit/dual enrollment program that, through the coordination of Columbia Gorge Community College and local high schools, offers high school students the opportunity to earn transferable college credits while taking certain approved high school classes. These courses are designed to award dual credit (high school and post-secondary) for courses taken at the local high school. High school instructors meet college faculty qualifications and students' skills must be appropriate to the college-level work. 
Why Take College Now Classes?
Aside from getting students a head start on college-level classes, College Now credits are a fraction of the cost of normal college tuition. Check out the average costs (2022-23 school year) for a four-credit class at the various kinds of colleges and universities in Oregon:
Community College:        $468
State University:            $2500
Private College:            $3500
College Now:                $58
The program is designed for Junior and Seniors but it is up to the high schools to determine who qualifies for these classes. Students should talk to their high school counselors regarding opportunities available to them through College Now.
Teachers interested in offering dual credit courses can find more information on our Faculty College Now page.
The Early College Program is typically funded by the high schools through Expanded Options (Oregon) and Running Start (Washington) funding, but families can inquire about this program outside of this funding. Please see the college's website or call Student Services for more information. All students must meet with a CGCC advisor prior to registration. Early College is a great way for students to get a head start on college coursework while still in high school.
Expanded Options is a program for Oregon high school students. Students should consult a counselor at their high school for eligibility requirements and program information.
Running Start is a program for Washington high school students. Students should consult a counselor at their high school for eligibility requirements and program information.
College Now Guides
Students must individually apply to CGCC and register for each course that they plan to earn dual credit in. To help teachers walk students through these processes, CGCC offers the following guides.
Visit https://www.cgcc.edu/apply and click Apply here -> under Non Degree-Seeking Students
Email Verification: Use your High School email to verify your account and begin the registration process
Use your full legal name
In the Applicant Information section, under Program, Select College Now
Under Program Version: Select College Now

Under Previous Education: Select Still in High School

Under Program Start Date: Select the correct term. Note: If your term has already begun and you cannot see it on the list, choose the next term after it. (Fall -> Winter -> Spring ->) For example, because Spring '23 has already begun, you will instead select 2023-24 Fall Start Date. This is simply to bypass how our system shuts down regular applications when a term has started. You will still be able to register for the correct classes.
Under High School: Find and Select Your School
Complete the rest of the application and wait for instructions in your email and from your teacher. You can contact cgraham@cgcc.edu if you have any questions about your application.
 Log into your student account at https://my.cgcc.edu

Click Academics on the left and then when it appears, click Registration.

Scroll down slightly and click the blue Registration button in the middle of the screen. If asked to select a term, select the correct College Now term. 

A new window will pop up. In the new window, scroll down to "All Courses - Includes Required and Elective courses."

Scroll through the list of College Now classes, until you see the class you want to register for.

Click the green plus sign icon on the far left of the desired class. 

In the bottom half of the window, find the "Register / Drop" button on the right side. Click Register/Drop. 

Finally, click Register/Unregister All. 

You should now see your classes on your Class Schedule in the student portal!
Students can also watch a video guide by clicking here.
Frequently Asked Questions
Apply to CGCC by following the instructions in the application guide above. While applying, pay special attention to the listed steps, or you pay end up assigned to the wrong program!
Please contact studentservices@cgcc.edu with an explanation of the issue. If you are missing a specific class, please provide the teacher's name, the approximate date of the class, and any other relevant information.
Contact collegenow@cgcc.edu with your specific question and we can look into available courses and programs in your area.
Sophomores can! All interested sophomores must fill out a Sophomore Exception form and return it to studentservices@cgcc.edu. You can download the form here.
If you are asking a general question about the College Now program, please email collegenow@cgcc.edu.
If you are asking a specific question about a College Now student, CGCC employees cannot typically share that information. Federal law (FERPA) requires CGCC to hold education records confidential unless the student signs a release or other specific requirements are met. This includes students under 18 years of age. You can read more about FERPA here.
If you have questions about FERPA, or a request for information about a student, send it to Mary Martin, Registrar.