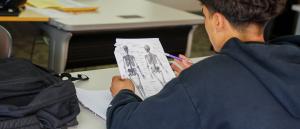 What is the Math & Science Pathway?
Are you captivated by the wonders of mathematics and science? Whether you're drawn to research, data analysis, engineering, or education, this pathway has something for you. A career in a math or science field opens doors to a world of discovery, innovation, and problem-solving. 
CGCC Programs in the Pathway
Start your academic journey in the world of Math & Science with our Associate of Arts Oregon Transfer program. This pathway offers a seamless transition to four-year universities, allowing you to continue your studies in specialized fields such as mathematics, physics, chemistry, or biology. Lay the groundwork for a successful career in research, academia, or various industries.
Looking to delve deeper into the world of science? Our Associate of Science program is designed for students passionate about scientific disciplines. Choose from a range of science courses tailored to your interests and career goals, such as biology, chemistry, physics, environmental science, or geology. Build a strong scientific foundation and unlock pathways to exciting professions or further academic pursuits.
Career Opportunities
Engineer
Statistician
Science Educator
Environmental Scientist
Mathematics Teacher