Basic Construction
18-Credit Certificate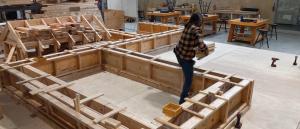 Career Description
The Basic Construction certificate is designed to train students in entry-level skills needed for employment in residential construction. The certificate provides foundational training in the use of building materials and essential carpentry skills. Students have the opportunity to develop confidence working in a jobsite-like environment using safe workplace practices. Employment in entry-level positions can be found in small and large construction companies, performing jobs such as residential remodeling and new home building. Employers are looking to hire candidates that have a strong grasp of the fundamental skills: reading drawings, taking measurements, calculating materials and amounts, cutting and shaping lumber/materials and forming foundations. In addition, they want employees that have the ability to work efficiently as part of a crew and demonstrate safe work habits. The Basic Construction certificate curriculum emphasizes the development of these skills and abilities through hands-on, practical experience and problem-based learning, just as students/workers will encounter on the job.
Course of Study
The Basic Construction certificate can serve as a first step for students interested in pursuing a college credential and can put them on a path for earning more advanced technical certificates. This certificate's 18 credits are fully contained in the more advanced 33 credit Construction Technology certificate.
Program Outcomes
Students who successfully complete this degree will be able to:
Use standard terminology when identifying tools, materials and hardware associated with the construction field.
Demonstrate the safe and proper use and care of basic construction tools.
 Perform fundamental construction techniques properly, including foundations and framing.
 Apply safe work habits at all times.
Prerequisites
Successful completion of MTH 98 or equivalent placement. Placement into WR 115 or IRW 115.
Suggested Course Sequence
Sequence shown is a recommended plan for full-time enrollment. Scheduling requirements may prevent all courses from being offered every term. Students must meet with an academic advisor to map their specific degree plan.
Suggested Course Sequence
Fall Term
Tools and Safety
CT 101, 3 cr

Footings and Foundations
CT 102, 3cr

Building Materials and Methods
CT 103, 3cr
Floor Framing
CT 104, 3 cr
12 Credits
Winter Term
Walls and Ceiling Framing
CT 105, 3 cr
Roof Framing
CT 106, 3 cr
 
 
6 credits