Construction Technology
36-Credit Certificate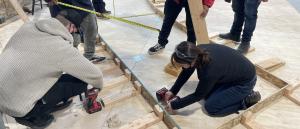 Career Description
Students who successfully complete the Construction Technology certificate will be prepared to meet a variety of contractor needs across the construction trades. Graduates will have the skills and abilities to competitively seek employment as a general carpenter in small and large construction companies. Throughout the 36 credit program, students will have the opportunity to work with many specialty tools and materials, gaining knowledge and skills related to: structural timbers, stick framing, roof framing, labor estimation, installation of lap siding, architectural roofing as well as interior/exterior finishes. Finally, the program introduces students to communication and teamwork skills that employers are seeking in better qualified employees: project leadership skills, ability to communicate/collaborate with clients, and the ability to work cooperatively and efficiently as a member of a team/crew. The program emphasizes hands-on, practical experience and problem-based learning, just as students/workers will encounter on the job.
Course of Study
The 36 credit Construction Technology certificate expands on the instruction provided in the 18 credit Basic Construction certificate, and all coursework in the Basic Construction certificate is included in and applies toward the completion of the Construction Technology certificate. The program's emphasis is on preparing students in the foundational skills of the construction industry.
Program Outcomes
Students who successfully complete this degree will be able to:
Explain terms and nomenclature pertaining to the tools, materials and hardware associated with the construction field.
Demonstrate the safe and proper use and care of basic construction tools.
Perform fundamental construction techniques properly, including foundations, carpentry, basic plumbing and electrical.
Apply safe work habits at all times.