Student Orientation for Online/Hybrid Classes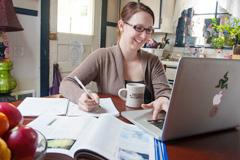 How to Succeed
Winter Term 2021-22 begins January 10th.
Join us for New Student Orientation! Register here.
First Week of the Term
Throughout the Term
Log in regularly, at least three times per week.
Contact the Student Helpdesk or your instructor with questions.
Ensure enough time to study, complete assignments and work with others.
Read the Moodle Student FAQ.
Take notes as you study.
Commit approximately 3 hours per credit per week.
Contact your instructors when problems arise.
Share your ideas and carefully consider your responses to others.
Take responsibility for your own learning.
Find or create a quiet study space.
Communicate Effectively Online
Be polite and respectful.
Use a meaningful subject line for your email and forum posts.
Be tolerant of views expressed by others.
When reacting to someone else's message, address the ideas, not the person.
Be careful when using sarcasm and humor.
Don't send commercial advertisements or "chain mail" to your classmates.
Using all capital letters is generally considered to be "shouting."
Technology Requirements
Minimum Computer Requirements
To participate in online and hybrid courses, students are expected to have access to the following equipment:
Computer
A modern computer system with a supported operating system.
An Internet connection 0.50 Mbps or better recommended. Test your connection.
An Internet browser.
Other Software
An email account and a word processing software.
A sound card and speakers are required for some courses.
Current virus software installed and kept up to date.
Some classes may have specific class requirements for additional software.
Technical Skills
It is important to know how to attach and copy files. In some classes, it may be necessary to download and intall software. All students have access to the Learner Orientation located in Moodle for technical skills related to the learning management system. 
Digital Information Literacy Skills
The college library can help you to learn how to use online databases and properly cite information sources.
Moodle Accessibility
Moodle complies with all major international standards in the area of accessibility, including XHTML Strict 1.0. More information.