Cite Your Sources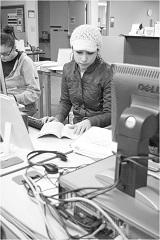 CGCC Photo/Louie Buzas
Why Cite Your Sources?
When you use someone else's work, you need to give them credit for it. You do this by directing your readers to the original source. Otherwise, it is plagiarism.
Why You Need To Cite Sources (3 minute video from CLIP)
What is Plagiarism?
Plagiarism is using someone else's work and passing it off as your own, whether accidental or on purpose.
Test what you know by taking this plagiarism quiz

(12-question quiz from Cornell University)
Citation Styles
APA Style
APA Formatting and Style Guide from OWL: a comprehensive guide to APA (6th ed., 2010)
MLA Style
MLA Formatting and Style Guide from OWL: a comprehensive guide to MLA (7th ed., 2009)
Citation Tools
Tips for using Citation Tools
Create your citation
Check it using the guides and examples listed above
When you cut and paste a citation, make sure you format the font, indent and line spacing properly in your word processing program