New Student Day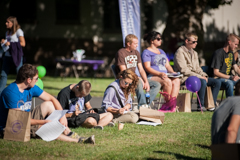 New Student Orientation Fall 2014
Contact
Michelle Gietl
Student Life Advisor
mgietl@cgcc.edu, (541) 506-6027
Welcome to Columbia Gorge Community College (CGCC)
Spring New Student Day has been cancelled. Please make sure to complete the online orientation at welcome.cgcc.edu. 
If you have any questions, please email mgietl@cgcc.edu.
Join us on Friday March 27, 2020, for New Student Day - one of the many great experiences you will have at CGCC!
10:00 am-1:00 pm
Check-in starts at 9:30 am, Building 3, in front of Student Services
Hear from current students about their first-term experiences; meet CGCC faculty and staff; build connections with other new students starting Fall Term; take a campus tour; find your classes; buy your textbooks; get your library card; get your student ID card; and be eligible to win an awesome prize!
* Required