New Student Day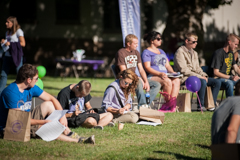 New Student Orientation Fall 2014
Contact
Michelle Gietl
Student Life Advisor
mgietl@cgcc.edu, (541) 506-6027
Welcome to Columbia Gorge Community College (CGCC)
Join us on Friday March 29, 2019, for New Student Day - one of the many great experiences you will have at CGCC!
10:00 am-1:00 pm
Check-in starts at 9:30 am, Building 3, in front of Student Services
Hear from current students about their first-term experiences; meet CGCC faculty and staff; build connections with other new students starting Fall Term; take a campus tour; find your classes; buy your textbooks; get your library card; get your student ID card; and be eligible to win an awesome prize!
Registration will open in November!
* Required