Welcome!
This page is a place for students, faculty and staff to find resources and tools to support health and wellness, both here on campus and in our community. It is also a space where we will share information on special events or programming. 
May is Mental Health Month
Find out all of the ways CGCC is participating in Mental Health Awareness Month for May and how you can learn about your own mental health, how to support students, encourage help-seeking and awareness.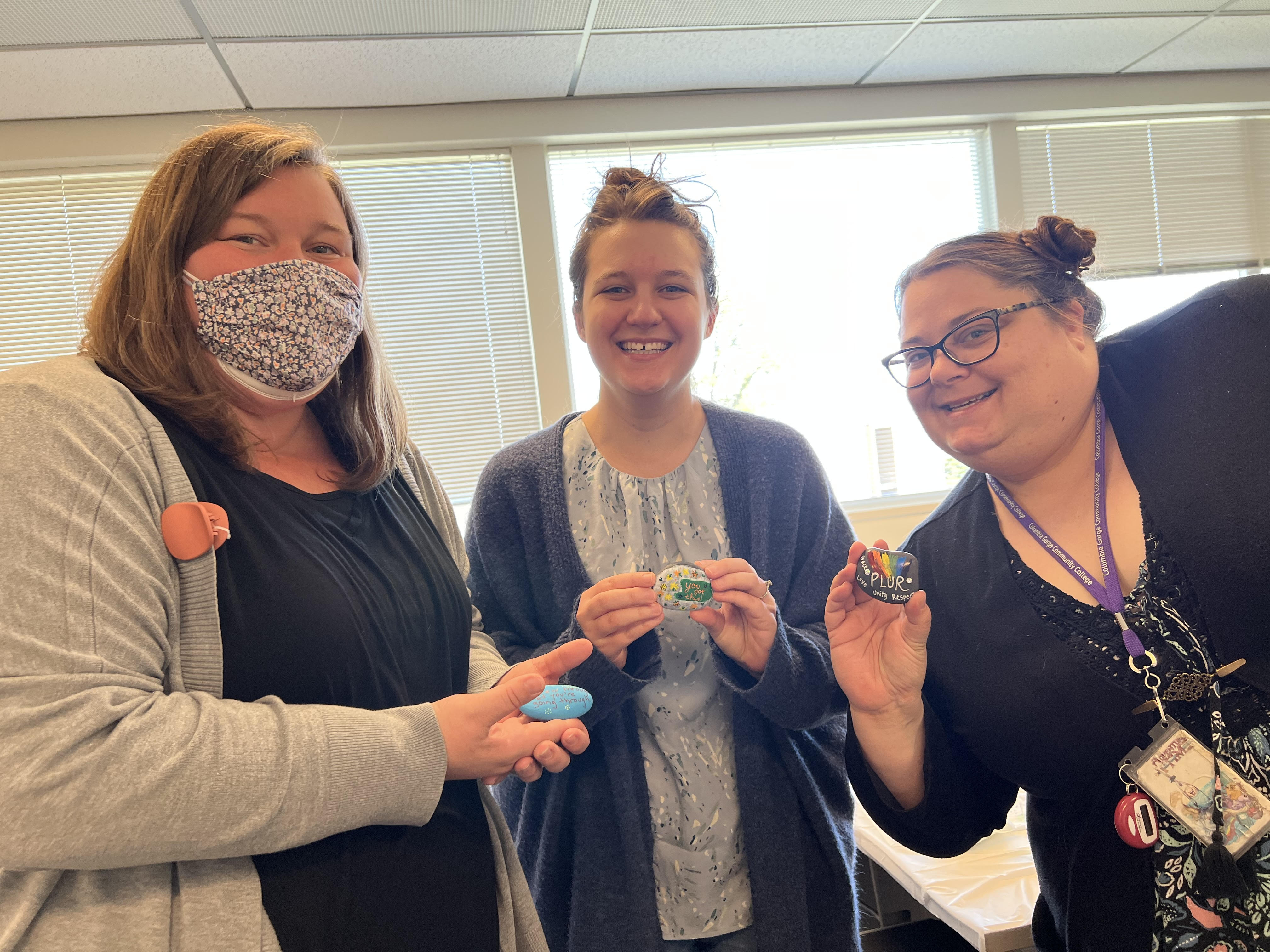 CGCC Rock Painting and Student Event
Faculty and Staff at CGCC have already been working toward a fun student event being held this month!  They recently came together to paint rocks including inspiring or mental health related messages that will be hidden around campuses throughout the month.  Students will find a picture on social media with clues as to where to find the rock, and can then bring it in to receive a fun prize!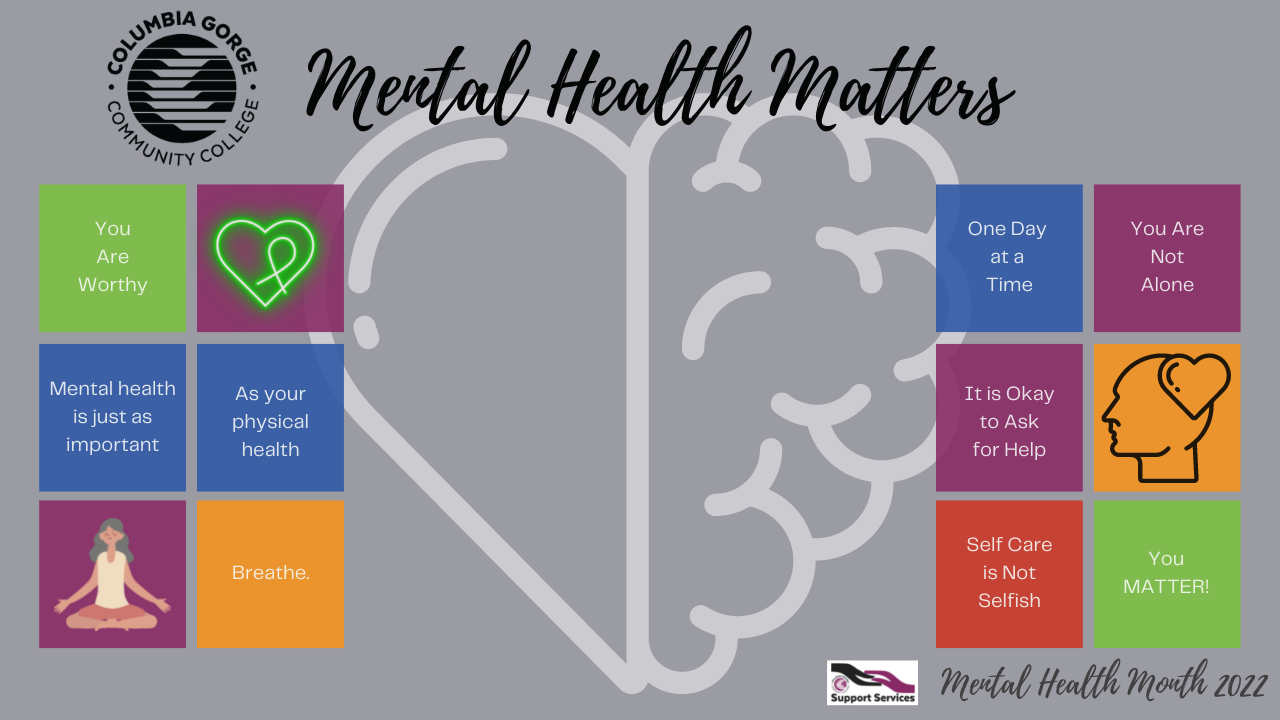 An additional way you can show support of mental health for both students, colleagues and others, is by downloading and displaying Mental Health Matters Zoom backgrounds throughout the month of May.  Pick one to use all month or switch them up. These zoom backgrounds are one small way you can further encourage awareness, normalize talking about mental health issues, and generally show that you care!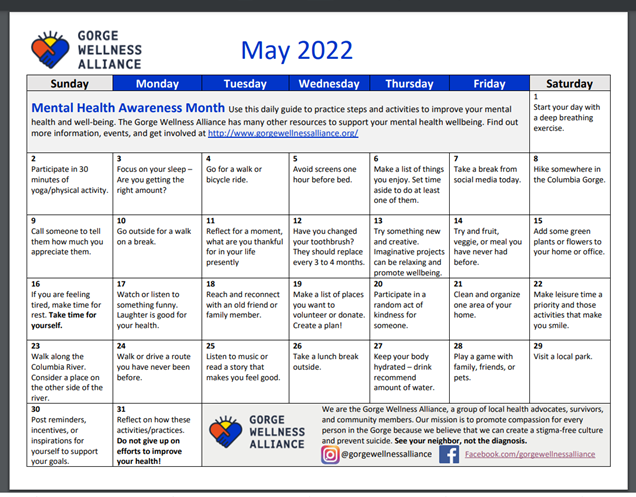 Calendar and Activities from the Gorge Wellness Alliance
The Gorge Wellness Alliance is a group comprised of multiple partners thorughout the Gorge collaborating in support of mental health and suicide prevention.  They have created a wonderful film called, Culitvate Compassion, a mini-documentary that spotlights six courageous, local individuals sharing their mental healthy journeys, inspiring us to talk, listen and cultivate compassion. We encourage you to watch the film and take the time to think about your own mental health and those close to you.
The alliance has also created a calendarPDF for May with a ideas and suggestions you can do each day to help improve or think about your own mental health and well-being. Many of these will be shared throughout the month on the Student Support Services Facebook Page.

988: A New Resource for Individuals and Families Navigating Mental Health Crises, Coming Soon.
As part of our efforts this month, we wanted to make sure everyone is aware of a new resource on the way for individuals and families experiencing mental health crises.  Beginning July 16, 2022, a new three-digit phone number — 988 — will be available 24/7 for people to call when they are or someone else is having a behavioral health crisis or emergency. 988 is short and easy to remember, like 911, which people call for all other emergencies.  You can find out more about 988 is being implemented in Oregon and throughout the nation, by visiting www.oregon.gov/OHA/HSD/AMH/Pages/988.aspx, reading this articlePDF written by Mental Health America, or this fact sheetPDF provided by the FCC.
Until 988 is in place, people can call the 24/7 National Suicide Hotline number: 1-800-273-TALK (8255) or text the crisis text line by texting Oregon to 741741. Read more about the crisis text line here.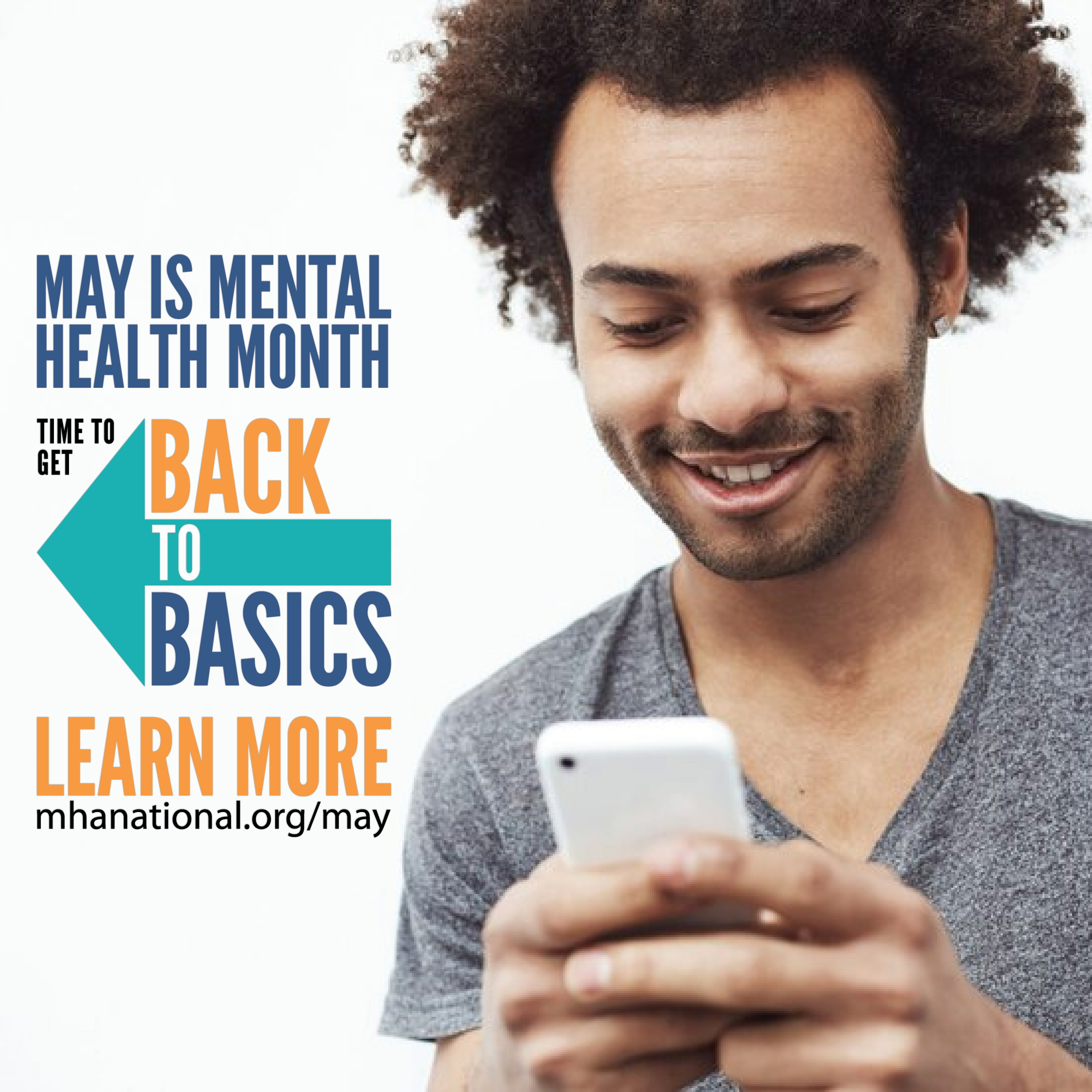 Article, Information, and Tools from Mental Health America and JED
Click on the following links for information and tools from Mental Health America and JED Campus. This year, Mental Health America has chosen the theme, "Back To Basics" to provide very practical mental health information, especially for those who may be experiencing  symptoms or learning about mental health topics for the first time.