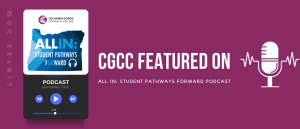 Have you heard? CGCC is featured on the latest episode of All In: Student Pathways Forward! Hosted by Marc Goldberg, Season Two of this groundbreaking and informative podcast interviews Oregon community college graduates about topics such as job quality, equity, and security. 
Columbia Gorge Community College is the focus of the August episode, which features an interview with CGCC President Dr. Marta Yera Cronin. Marc's other guests are three graduates of CGCC's Renewable Energy/Electro-Mechanical Technology program who now work for GE Renewables: Colby Williamson (2021), Brian Irwin (2014), and Tyrell Quantrell (2011).
Season One of All In focused on the basic needs insecurity facing many of today's community college students, along with the policies and holistic supports that can address these systemic barriers. Through all the interviews,the issue of quality jobs inevitably surfaced as a key priority and focus for Oregon's community college students. Students clearly viewed community college as their pathway into a quality job and career, one that offered economic mobility and stability and aligned with their goals.  
In response to students' priorities, Season Two will continue to elevate Oregon community college student voices to shape inclusive policies, practice and partnerships but shift the focus from the issues of student basic needs insecurity to the related topic of job quality and equity. The podcast will continue to center those students whose voices have too frequently been missing from the conversation–rural, parenting, adult, immigrant, and students of color. 
Host Marc Goldberg says he started the podcast "to elevate Oregon community college student voices in an accessible medium so more individuals could hear directly from community college students across the state about their inspiring success stories, their policy recommendations and also go deeper in understanding students' complex experiences navigating through college and careers systems that point to student-centered solutions."
The All In: Student Pathways Forward podcast is a part of Oregon's participation in the National Skills Coalition SkillSPAN network. The CGCC episode is available athttps://www.buzzsprout.com/1764516/11117831.  It can also be found on Spotify, Overcast, Apple Podcasts and other podcast sites.
Students interested in the Electro-Mechanical Technology program should contact Student Outreach and Recruitment at soar@cgcc.edu. More details on the program can be found at cgcc.edu/EM-Tech (AAS degree) and cgcc.edu/em-tech-cert (Career Pathway Certificate).