Electro-Mechanical Technology
98-Credit Associate of Applied Science Degree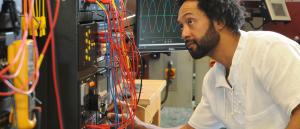 Career Description
The Electro-Mechanical Technology (EM-Tech) program provides a solid foundation in automated electronic technologies preparing students to work as technicians in a broad range of industries: wind, solar, hydropower, avionics manufacturing, food and beverage manufacturing, engineering, and others. Electro-mechanical technicians perform a variety of job duties:
operate and maintain equipment
perform mechanical and electrical component repair to correct malfunctions following manufacturing requirements
comply with project environmental health and safety programs
perform preventative maintenance in accordance with OEM maintenance manuals
Electro-mechanical technicians use electrical and electronic theory to design, build, repair, calibrate, and modify components, circuitry controls, and machinery.
Course of Study
The Associate of Applied Science degree provides a basic level of knowledge and skills in programmable logic controllers, industrial control systems, semiconductors, and higher levels of math. Students must also meet Associate degree comprehensive requirements and Associate of Applied Science degree requirements. Students interested in transferring to Oregon Institute of Technology or Embry Riddle Aeronautical University may start their studies at Columbia Gorge Community College (CGCC). Upon completion of their AAS degree in EM-Tech, students can transfer to one of these partner universities and complete a degree in a related engineering field.
Students interested in this option are recommended to meet with a CGCC academic advisor and an advisor from their planned transfer institution after their first year of study at CGCC.
Program Outcomes
Upon successful completion of this degree, students will be able to:
Qualify for employment in the electro-mechanical field as technicians.
Service/repair electro-mechanical systems and assist engineers with the design of electro-mechanical systems by applying knowledge of electrical, electronics, mechanical, control systems and hydraulic/pneumatic concepts.
Apply basic operations management practices and principles in an advanced manufacturing environment.
Control computer-driven devices through programming in the C language