Child Care Partners
Child Care Resource & Referral of Gilliam, Hood River, Sherman, Wasco, and Wheeler Counties.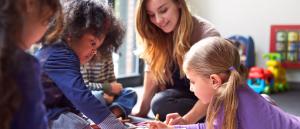 Child Care Resource and Referrals (CCR&Rs) are regional entities funded by the Early Learning Division (ELD) to recruit and retain child care businesses, both home, and center-based, to help build the supply of high-quality child care across Oregon.  CCR&Rs offer comprehensive support to early educators to empower them to provide high-quality, developmentally appropriate services to children and families.
Child Care Partners (CCP) is one of 15 regional CCR&Rs and helps families find child care and assists child care providers with resources for their business.
CCP TRAINING
Do you need training hours to meet licensing requirements? Sign up for a CCP training online through CourseStorm.
STATEWIDE TRAINING
The State of Oregon offers a comprehensive list of all child care provider training taking place across the state.
FIND CHILD CARE
Are you looking for child care? Find Child Care Oregon is designed to help families search for and locate child care providers.