Pre-College and College Guidance Department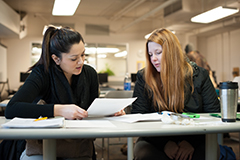 CGCC Photo
Contact
Elizabeth Knudsen
Pre-College Specialist
eknudsen@cgcc.edu, (541) 506-6041
Department Chair
Department Director
Pre-College Coordinator
**Winter Term 2021 classes will be completely online again.  Please call 541-506-6041 to get signed up for orientation.  Leave a message if no one answers and you will get a call back.**
*For up to the minute campus closure information, please sign up for FlashAlert*
Teaches current and future students the skills needed to guide them through a successful college experience.
College-prep classes help students prepare for or improve scores on college placement tests, develop reading comprehension skills and strategies, renew or increase math skills, and develop writing composition and grammar skills.  Students must be 16 years old or older AND pursuing a GED, or be 16 years old or older, have a high school diploma or GED AND be entering college.
Students will learn the needed skills to complete the GED® test.  Students must be 16 years old or older. Classes begin each trimester and follow the college's terms.  NO NEED TO WAIT UNTIL FALL TERM TO BEGIN! Call us to get signed up!
Expand your reading skills, learn basic to college level reading skills.
A program for eligible youth ages 16-24.
A program housed at the Worksource The Dalles office and on our Hood River campus in room 301.  A program for adults ages 18+.
Classes
| Course | Name | Credits |
| --- | --- | --- |
| ABE 60 | Pre-College Language Arts I: Science & Social Studies | 0 |
| ABE 70 | Pre-College Language Arts II: Science & Social Studies | 0 |
| ABE 80 | Pre-College Math I | 0 |
| ABE 90 | Pre-College Math II | 0 |
| CG 101 | College Survival and Success: Personal Responsibility | 1 |
| CG 102 | College Survival and Success: Goal Setting | 1 |
| CG 103 | College Survival and Success: Self-Management | 1 |
| CG 111A | Study Skills for College Learning | 3 |
| CG 111C | Study Skills for College Learning | 1 |
| CG 114 | Financial Survival for College Students | 1 |
| CG 130 | Today's Careers | 2 |
| CG 140B | Career and Life Planning | 2 |
| CG 209 | Job Finding Skills | 1 |
| CG 225 | Transfer to a Four Year College | 2 |
| GED 60 | Pre-College Language Arts I: Science & Social Studies | 0 |
| GED 70 | Pre-College Language Arts II: Science & Social Studies | 0 |
| GED 80 | Pre-College Math I | 0 |
| GED 90 | Pre-College Math II | 0 |
| | Name | Title | Email | Phone |
| --- | --- | --- | --- | --- |
| | Andrew Carmicheal | Pre-College Department Chair, Pre-College & ESOL Instructor | acarmicheal@cgcc.edu | (541) 506-6041 |
| | Lex Crawford | Pre-College Pathways and Transitions Advisor | acrawford@cgcc.edu | (541) 506-6060 |
| | Teresa Cummings Weir | Title 1B Program Manager, Pre-College Coordinator | tcummings@cgcc.edu | (541) 506-6048 |
| | Matt Fitzpatrick | Pre-College Pathways & Transition Advisor, Title II Director | mfitzpatrick@cgcc.edu | (541) 506-6042 |
| | Elizabeth Knudsen | Pre-College Specialist | eknudsen@cgcc.edu | (541) 506-6041 |
| | Traci Miller | Career Advisor | tmiller@cgcc.edu | (541) 296-5435 |
| | Mike Scroggs | Career Advisor | mscroggs@cgcc.edu | (541) 308-8261 |
| | Kelly Wiley | Pre-College & Gorge Literacy Program Instructional Assistant | kwiley@cgcc.edu | (541) 308-8243 |