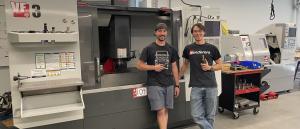 Columbia Gorge Community College is significantly expanding job training for students pursuing careers in manufacturing, metals fabrication, agriculture, and other technology-based careers with the purchase of industry-standard advanced manufacturing equipment. The equipment is the latest addition to the college's Columbia Gorge Regional Skills Center, built to provide previously underserved students with in-demand technical skills historically only offered outside the Columbia Gorge.
Google, which operates data centers in The Dalles, provided a grant of $85,000 to Columbia Gorge Community College Foundation to purchase and transport the equipment, which includes computer numerical controlled milling and lathe equipment from Prigel Machines in Odell. Owner Brian Prigel is another champion of the college, offering technical guidance and other support. The machines are used in a variety of industries including manufacturing, agriculture, aerospace and wood products.
"Industry partnerships like this elevate the college and provide opportunities for our students to excel," said Wendy Patton, executive director of the college foundation.
"This equipment is part of the future of automated manufacturing -- everything from farm equipment to furniture to airplanes," added the college's president, Dr. Marta Cronin. "Our students can now master this technology before they enter the workforce, launching them into family-wage jobs."
Columbia Gorge Regional Skills Center opened in 2021 with new career-technical programs such as Construction Technologies and Advanced Manufacturing & Fabrication. The center helps fill a skills gap which has limited local employers from hiring local, qualified employees. The college also plans to make these new machines available for businesses to use for prototyping and design.
"This is an investment in both our future and current workforce here in Wasco County," said Kate Franko, Regional Director of External Affairs for Google's data centers in The Dalles. "And it's another example of how Columbia Gorge Community College and its partners are preparing more Oregonians for higher-paying, in-demand technical jobs."
In 2021, Google contributed funding for a 3D-printer, laser engraver, watercutter, milling machine, studio system furnace, and other equipment for the Regional Skills Center's makerspace, resolving a critical gap in training capacity. Advanced Manufacturing and other programs were showcased in September when the college and its partners celebrated the skill center's first anniversary.
Google opened its first U.S. data center in The Dalles in 2006. Under new agreements with The City of The Dalles and Wasco County, Google will have the option to build two additional data centers in The Dalles. The project includes cleanup of a former Superfund site and a land donation to the county. It will help protect the region's natural resources in keeping with Google's global water stewardship and carbon-free energy goals. Since 2006, Google has contributed more than $2 million to organizations in Wasco County to support education and regional economic growth.