Child Care Providers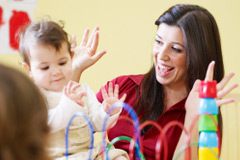 Child Care Partners provides high quality training and professional development to our early learning and education work force, supporting them in their journey of continuous quality improvement. We strive to develop strong, supportive relationships and trust with early learning professionals in our communities. 
Are you a child care provider?
Need training hours?
Resources
Upcoming Trainings
View our Training Calendar