History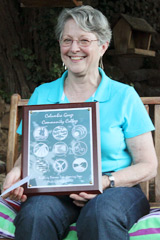 Ruth Lusk at her 2010 retirement party
Our first Program Coordinator, Ruth Lusk
No description of Child Care Partners would be complete without reference to Ruth Lusk, who retired as program coordinator in 2010.
Ruth joined Child Care Partners as its first coordinator in 1991. A Hood River preschool owner at the time, she and her husband Steve had lived in the Columbia Gorge since 1984; both are ordained ministers.
Fulfilling a Need
At the time, Columbia Gorge Community College was still located in downtown The Dalles, where its then-student services director, Judy Cochran, observed many students bringing their children to class, or leaving them in a small room at the college's Fourth & Washington Street location.
"Judy learned of the Child Care Resource and Referral Program that was being expanded across the state," Ruth explains, and Cochran assembled key local and state agencies into a stakeholders committee. What began at the federal level became a statewide program through direction of the Oregon Legislature in 1989, and it became Ruth's responsibility to launch the program for Hood River and Wasco counties. Then as now, Columbia Gorge Community College provided operational assistance, recognizing the value of helping students and the general public find qualified child care.
Focusing on Training and Professional Development
There have been many key advances since then, such as a focus on formal education and training for child care workers, and a state requirement for criminal background checks for those workers – something that wasn't instituted until 1997-98. A professional development registry began in 1999, identifying training requirements for childcare workers.
The latest major development came in 2009, when the state mandated a consolidation of the "service delivery areas" assigned to the Child Care Resource and Referral Network. Here in the Mid-Columbia, this meant the merger of Child Care Partners' original territory – Hood River and Wasco counties – with neighboring Sherman, Gilliam and Wheeler counties. As one of her final tasks prior to retirement, Ruth worked with those neighboring counties to facilitate this transition.
Her Colleagues Remember Ruth
Ruth retired in July, 2010. We miss her presence, but know that she will always be a part of Child Care Partners.
"Our college and our communities owe a debt of gratitude to Ruth Lusk, whose leadership of Child Care Partners helped an entire generation of parents find quality care for their children. Many of those parents have been students at Columbia Gorge Community College. Ruth's work was invaluable, allowing our students to focus on their classes, secure in the knowledge that their children were well cared for. Thank you, Ruth, for all you've done." - Dan Spatz, CGCC Chief Institutional Advancement Officer
"Ruth has been my mentor and friend for many years. Thanks to her guidance, I have had opportunities in the field of Early Childhood that I never would have had otherwise. Stepping into the Coordinator role after Ruth retired has left me with very big shoes to fill. I cannot replace her, but I am proud to follow in her footsteps." - Nancey Patten, Child Care Partners Coordinator
"I joined Child Care Partners' staff in 2000. I want to share with you that Ruth was a tireless advocate for quality child care in our communities. She believed strongly that better communications between providers and parents would enhance child care outcomes and benefit children. Parents and parenting skills were just as important as quality child care providers. She was a consummate professional career woman and asked the same of program staff." - Kathleen McFarlane