Wind Challenge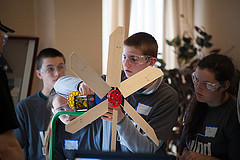 Contact
Peg Caliendo
Special Projects Manager
pcaliendo@cgcc.edu, (541) 506-6024
Thank you for participating in 2015 Wind Challenge, a hands-on program that fuels student interest in science, technology and wind energy!
See pictures from the event.
Download your team results.
During the event, teams of three to six middle school and high school students learned about wind turbine technology and design, and applied their skills in an all-day competition to build, test, and present their wind turbine models to a group of judges.
The 1st, 2nd, and 3rd place prizes were given to three high school teams and three middle school teams whose wind turbines had the strongest mechanical power, fastest speed for transferring the kinetic energy, and the most electrical power generated. More than 200 students participated in the event!
This year's event was organized by Columbia Gorge Community College and Google.
Check Who has Participated!
High School Teams
Camas High School
Columbia High School (3)
Dufur High School
Goldendale Homeschoolers (2)
Heppner High School (2)
Home School - The Wolves
Hood River Valley High School (2)
Klickitat High School
Lyle High School
Riverside High School
South Wasco County
The Dalles High School
Wishram High School
Middle School Teams
Corbett Middle School (4)
Klickitat Middle School (3)
Mill A School
The Dalles Middle School (3)
Wishram Middle School (2)
Wy'East Middle School