Traci Miller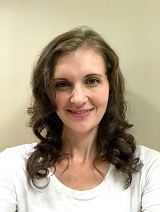 Traci Miller
Career Advisor
tmiller@cgcc.edu, (541) 296-5435, ext. 234
Office Hours
WorkSource The Dalles, 700 Union St.
Tuesday, Thursday, & Friday 8am - 5pm
Columbia Gorge Community College - Indian Creek Campus
Wednesdays 8am – 5pm
Background
Born and raised in Hood River, OR, Traci knows the local labor market well. In high school, she was the bemused recipient of the "Most Likely to Become an Actress" award (which so far has not panned out). After doing a bit of learning and travel, Traci returned to Hood River because there's no place like home. She has been working as a Career Advisor with WIOA Title 1B funding since 2009 and is a resume-writing expert. She also makes a mean batch of cookies.
Education
University of Leeds
Master of Music in Musicology
Linfield College
Bachelor of Arts in English Literature, Music, and Vocal Performance