Local Providers Working Toward CDA Credential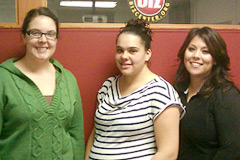 Group of child care providers working toward their CDA credential.
May 29, 2012
Six child care providers from three counties have come together with the support of Child Care Partners to work on obtaining a Child Development Associate (CDA) credential.
Individually we have been working with other providers to get or renew their CDAs. These providers have the commitment and desire to increase their skills and become CDAs. In this group providers are working on:
Family Child Care credential
Center-based Infant/Toddler credential
Center-based Preschool credential
Nationally Recognized Credential
The CDA is a nationally recognized credential for those professionals working in Early Childhood. The program began in 1971 in response to concern about the quality of child care in this country. At that time there was no deliberate, organized effort to keep track of the quality of care that children were receiving. As we now know, the quality of care that children receive is critical to their future success in school and in life. 
CDA Candidate Requirements
CDA candidates must have a minimum of 480 hours working with young children in the past five years. They must also document 120 hours of formal child care education within the past five years.
The trainings must include a minimum of 10 hours in each of 6 categories:
Establishing and maintaining a safe, healthy learning environment
Advancing physical and intellectual competence
Supporting social and emotional development and providing positive guidance
Establishing positive and productive relationships with families
Ensuring a well-run, purposeful program responsive to participant needs
Maintaining a commitment to professionalism
Candidates will also be documenting their knowledge in these 6 categories. They will develop a resource file, participate in an oral interview, and pass a written exam.
Earn Your CDA Certification
Child Care Partners is thrilled to be able to support these professionals as they work toward their CDA credential! Contact us or call (541) 506-6131 if you are interested in working toward a CDA and would like to join this group or would like support or training to renew your credential.