Powered by PocketFuel: Runner Races Ahead With Specialty Energy Snack in a Pouch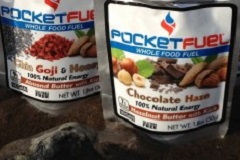 PocketFuel Naturals
January 18, 2012
When high-powered athletes train or play, access to calories and nutrition become a necessary focal point in their success.
If you are unfamiliar with the issue, just ask Mark Ribkoff, Hood River long-distance runner-turned-entrepreneur and creator of "PocketFuel," a snack fuel for athletes.
"I was frustrated with the portable nutrition products that were available when I was doing endurance running," Ribkoff said. "There have been only two main options for fuel or snacking when you're on the go."
Those standard options for energy replacement include sports gel (a messy liquid sugar in single-serving packs) or sports bars (which require chewing.) Both posed problems that led to Ribkoff's business-ephiphany.
Ribkoff, seeking a fuel with higher nutrition, fast ingestion and easier portability, began to research whole food products and innovative packaging concepts. Along the way, he found assistance to bring his new ideas to life through a partnership with Columbia Gorge Community College's Small Business Development Center and the college's commercial kitchen.
"I went to one of the biggest food manufacturing producers in Oregon with my product idea and they told me it was 'not possible' to do what I had in mind," said Ribkoff.
What he had in mind was creating a smooth, easily eaten almond butter that would be enhanced by added dried, diced fruits and nutes.
It was the viscosity of the almond butter and the size of the fruit bits that stumped the industry agents. There was no known way to process that food combination into a refillable, easy-squirt pouch.
CGCC, on the other hand, offered Ribkoff the use of its commerical kitchen and specialty food production equipment while Ribkoff worked through the details. He also began to work on a business plan at the SBDC to help bring "PocketFuel" to market.
"CGCC was perfect," said Ribkoff. "They had all the machinery needed to produce the products I wanted to. It really worked as an incubator for my small business. And, the people there are wonderful."
When packing equipment limitations arose in the CGCC commercial kitchen, Ribkoff's ingenuity kicked in.
"I needed to invent a new kind of package for my squeezable fuel, which required a larger screw top that could fit under a standard filling machine nozzle."
Ribkoff's design experience helped him figure out the details on his reclosable tops and his entrepreneurial spirit provided the courage to take a risky next step.
"I had to order 50,000 of the pouches to get the packaging guys to execute the custom design," he said.
Luckily for Ribkoff, "PocketFuel" sales are taking off and may end up better named as "RocketFuel."
Two friends have now become Ribkoff's silent partners and financial backers. Ribkoff also has joined the ranks of many other innovative start-up businesspersons by tapping into the new "crowd-funding" model for additional capital acquisition.
Not familiar with that? Google "Kickstarter" or any number of other crowd-funding sites to learn about the process.
Ribkoff, through Kickstarter.com, has already gained enough new believers in his product to reach his next financial goal - obtaining enough cast to create retail display packs for the individual "PocketFuel" sale units.
Beyond the logistics of Ribkoff's business model is the product itself - a very delicious and satisfyiing snack experience in four flavors.
Ribkoff is proud of the other improvements his product represents for the consumer: Refillable and resealable personal pouches - reducing waste; 18-month product shelf life unopened or six months after opening; combined easy ingestion and high nutrition in one product; easily portable and clean to use while running, biking or during any activity.
The 3-ounce pack sells for $3.99 each with 440-500 calories per unit. Fruit combinations with the almond butter include banana-blueberry, coconut-cherry, chai-goji and chocolate-espresso.
For those with less on-the-go needs, Ribkoff also packages the products in regular jars under the label "Dead End Farms" and sells at Huckleberries and the Gorge Grown markets in Hood River.
If seeing more information on "PocketFuel," visit the company website at www.pocketfuelnaturals.com or try a sample at Hood River retailers: Shortt Supply, Mt. View Cycles, Flow Yoga, Cross Fit and the Hood River Sports Club.
Newspaper Article from the Hood River News