Oregon Small Business Champion Mary Merrill Receives Excellence and Innovation Award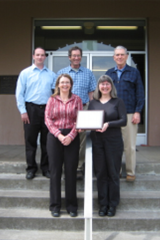 CGCC SBDC Staff: (l to r) Mike Demott, Chris La Deucer, Darrell Roberts, Mary Merrill, Guy Moser
Oregon Small Business Development Center Network
May 1, 2009
(Eugene, OR) Mary Merrill, Director of the Columbia Gorge Community College Small Business Development Center (SBDC) is the winner of the U.S. Small Business Association (SBA) Excellence and Innovation Award in the state of Oregon. The award will be presented at the Oregon Small Business SBA Awards event May 28th in Portland, Oregon.
Merrill's selection was based on overall excellence in service to small businesses, innovation and contributions to the Oregon Small Business Development Network. To qualify an individual must be an exemplary performer; make a significant contribution to the state's SBDC program and show a strong commitment to small business in Oregon. "I am proud to honor her as a champion of small business in Oregon, whose tireless efforts provide tangible and significant results to the entire state of Oregon," said SBA District Director, Harry Dewolf.
In her role as SBDC Director, she can be found talking to entrepreneurs and business owners throughout Columbia Gorge and Eastern Oregon, assisting them face issues with a solution based drive to help them achieve their dreams. "Mary is a critical key member of Columbia Gorge Community College and the small business community" said Dr. Frank Toda, President of Columbia Gorge Community College. He goes on to state, "SBDCs are the first responder for economic recovery. She has helped raise $7M in revenue for small businesses in the community." Toda states, "SBDCs are key to Oregon's economic recovery by creating jobs, creating results and building businesses"
"Mary is truly a bright spot in the business development arena" says Represent John E. Huffman, Oregon District 59. He states "The Oregon SBDC office in The Dalles, under the direction of Mary Merrill, has been invaluable assisting small businesses, business start-ups, and has been instrumental in leveraging millions of dollars for Oregon small business."
In July of 2008 she was appointed by Governor Kulongoski to the Oregon Small Business Advisory Council. He recognized the award for Merrill in a letter stating, "Oregon's SBDCs offer critical assistance to new enterprises and are instrumental in many of their successes. With today's complex business world and unstable economy, the excellence and innovation she has demonstrated is invaluable in helping advance those businesses which are the backbone of Oregon's economy."
Oregon State University (OSU) College of Business recognized her this month with a distinction of "Trendsetter." Mary graduated from OSU in 2005 with a Master Degree of Education.
Mary began working for Columbia Gorge Community College in October 2003. She was hired as a Business Instructor and counselor. In 2005 she was hired as the SBDC Director. In 2008 Merrill received the SBDC Oregon State Star award for her accomplishments made to the success of the SBDC program in Oregon. She credits her entire SBDC staff and team at Columbia Gorge Community College SBDC of Chris LaDoucer, Darrell Roberts, Mike DeMott and Guy Moser for her SBDCs success.
Mary Merrill was born in Anchorage, Alaska into a career Air Force family. The constant moving and challenge to learn languages has served her well in her career. She graduated from high school in Arecibo, Puerto Rico. Merrill managed a family owned medical laboratory business in Coeur d'Alene, Idaho early in her career. Always an early adopter of technology for use in business, she helped implement one of the first computerized billing systems available on the market from IBM.
Oregon's 19 SBDCs provide business management assistance to small businesses at every stage of their "life cycle," from start-up to succession. In addition to the counseling services, these centers offer a wide variety of training activities and information resources. Oregon small businesses are critical to the economic recovery. The SBDCs are key to Oregon small business success.
About Oregon Small Business Development Centers: Oregon Small Business Development Centers provide comprehensive management assistance, training, and information resource services to established and prospective businesses. Professional certified business advisors provide assistance at no direct cost. OSBDCN is sponsored by 16 community colleges, three regional universities, the U.S. Small Business Administration, and the Oregon Economic Community Development Department and is accredited by the Association of Small Business Development Centers. The network has 19 service centers located throughout the state with headquarters at Lane Community College. All SBA and OSBDCN activities are extended to the public on a nondiscriminatory basis. Reasonable arrangement for persons with disabilities will be made if requested at least 2 weeks in advance. More information is available online at www.BizCenter.org or by calling (541) 463-5250.
Press Release by Oregon Small Business Development Center Network