Pathfinder Career and Transfer Center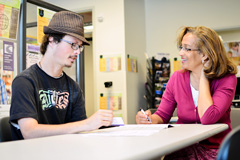 CGCC advisor meeting with a student
CGCC Photo/Michelle Bose
Columbia Gorge Community College's (CGCC) Pathfinder Career and Transfer Center offers personalized, one-on-one career counseling and college transfer planning.
Career counseling sessions help students discover their interests, skills, strengths, values and personality and define a clear career path to guide their educational plan.
College transfer planning sessions outline the necessary steps and requirements to transfer to another college or university.
Students
Free of charge for CGCC Students. Check with your advisor.
Employers