Pinning Ceremony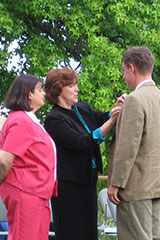 CGCC Photo
The pinning ceremony is a time-honored nursing school tradition. The pinning ceremony signifies the nurse graduate's official initiation into the brotherhood and sisterhood of nurses.
History
The history of this "right of passage" can be traced all the way back to the Crusades of the 12th century. The modern ceremony dates back to the 1860s, when Florence Nightingale was awarded the Red Cross of St. George in recognition for her tireless service to the injured during the Crimean War. To share the honor, she in turn presented a medal of excellence to her brightest graduates.
By 1916, the practice of pinning new graduates was standard throughout the U.S.