Prestigious aviation award honors instructor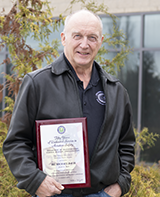 January 8, 2021
A fifth-generation Wasco County resident and Columbia Gorge Community College instructor has received the Wright Brothers Master Pilot Award, the Federal Aviation Administration's highest honor.
Mike Davis, a professor of autonomous flight at the college and life-long pilot, learned late last year that he had received the prestigious award. The FAA based its decision on nominations from commercial airline pilots and others who have worked with Davis through the years. The award recalls pioneering aviators Wilbur and Orville Wright, who conducted the first powered flight on Dec. 17, 1903. The award recognizes professionalism, skill and aviation expertise spanning at least a half-century of civilian and military service.
"It's the FAA's highest award," Davis said. "People who recommended me were aviation industry people. The FAA conducts extensive background research and wants to know whether you've dedicated your life to aviation."
Davis holds a Bachelor's in Electrical Engineering and a Master's in Law. He has a Commercial Pilot's Certificate, with instrument rating for single and multi-engine aircraft. A descendant of Tygh Valley pioneers, Davis also serves on the Wasco County Planning Commission. A lifelong entrepreneur as well as a pilot, Davis founded and directed an electronic component manufacturing business with divisions in the United States, China and Mexico from 1983 to 2005. Previously, he founded Davis Aviation, Inc., offering a flight school, charter operations and aircraft maintenance.
He was appointed by Washington Gov. Christine Gregoire to serve on the state's Global Competitiveness Council, and received the 2005 Marco Polo Award for global success in international business. Davis also served as USA representative for the Investment and Support Agency of Turkey, focused on international business recruitment in Turkey.
Closer to home, in addition to his faculty roles at Columbia Gorge Community College as an Unmanned Aerial Systems (UAS) and business instructor, Davis directs Aero Drone Corporation, a UAS training center, from his family ranch near Tygh Valley.
Davis considers the Wright Brothers Award as not only a professional recognition, but also an opportunity for Columbia Gorge Community College to envision how its existing UAS training program can expand and diversify, especially as the college develops an aviation technician training program.
Unlike civil and military aviation, there are no standard safety training programs for UAS operators, despite the escalating risk autonomous aircraft pose to piloted aircraft.
Davis wants to change that.
"In fixed-wing and helicopters you have very extensive training, and it's recurring," he explained. "You're trained constantly for every hour you have in the air. But there's absolutely no safety programs for drones. There's no physical requirement – it's a self-evaluation. The problem is you've got somebody at a control station who's never been a pilot, and it's a real-life game. In fixed-wing and helicopter aviation, you have to take a medical physical examination, and a flight test by an examiner."
In situations where one mistake can quickly amplify, civilian and military pilots are trained to deal with stress. Yet all too often in the UAS world, operators are not trained to handle stressful emergencies. Instead of quickly and safely correcting that first mistake, a stressed drone pilot misses it, David explained.
"The way to deal with stress is to incorporate it into safety training," he said. Toward that goal, he's working with CGCC healthcare occupations instructor Diana Bailey to develop a credit program for UAS operations in a healthcare setting. For instance, drones are already being used to deliver emergency medical supplies, and for search & rescue operations. The new safety training program begins this spring.
"Nobody has conducted stress training with drones," Davis noted. The initiative will include publication of a case study of 20 diverse students, documenting methodology. "And it's going to have the college's name on it," Davis added. "We need to raise the college up in everything we do, so we can become nationally recognized."
Ironically, the COVID pandemic, for all its devastation to lives and well-being, also raises awareness of how such training can occur in a virtual environment. That's why Davis sees national implications for Columbia Gorge Community College.
"It's an online program: Students can take it from anywhere," he said. "They come to campus for the hands-on part," where they'll be able to stay in the college's new residential hall, scheduled for completion this summer.
"We have an opportunity with the residence hall to take it to the next level," Davis said. "We've got to make it happen."