National Guard Readiness Center - Net Zero Efficiency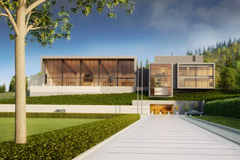 National Guard Readiness Center in The Dalles - TVA Architects and Hoffman Construction Company of Portland, Oregon
July 11, 2012
A new goal for the National Guard Readiness Center being constructed in The Dalles makes it likely the armory will be the first one in the country to achieve "net zero" energy consumption, meaning it will produce as much energy on site as it uses. "I firmly believe even if we don't achieve net zero this will be the finest single-unit armory in the country," said Jim Willeford, chief of military construction for the state.
Renewable Energy Program Partnership
In addition to the net zero goal Willeford said they also want to add an additional 13,000 square feet of space for use by Columbia Gorge Community College. The "exciting challenge" of becoming a net zero building is the perfect opportunity for further partnership with the college, Willeford said, because of their Renewable Energy Program.
Willeford said the net zero building in The Dalles will also be a pilot program, so the primary objective will not just be saving energy, but also to teach the department about what works best and what it takes to have a building with zero net energy. Those lessons will be applied to future armories.