Japanese Festival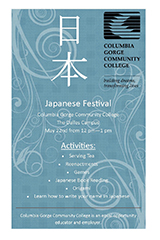 Download the flyer.
May 8, 2013
The Dalles Campus - Outdoor, May 22, 12 pm - 1 pm.
Take a lunch break to learn about Japanese culture, play games and try Japanese tea. The event includes:
Cultural reenactments
Japanese book reading
Origami workshop
Japanese games
Serving Japanese tea
Learning basics of the Japanese language
Japanese Festival is organized by students from the CGCC Japanese language classes.