'I Am CGCC' Jonathan Neptune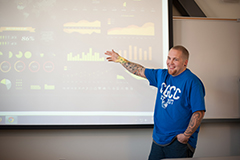 CGCC Student, Jonathan Neptune
May 1, 2014
Why You Can't Judge a Book By Its Cover
When people first meet CGCC student Jonathan Neptune, they often assume he's all rough and tough—perhaps living on the wrong side of the tracks. But there's nothing any farther from the truth. Sure, Neptune has more than a few very visible tattoos. They cover his legs, arms, and part of his chest. But for him, each of these pieces of art is a reminder to himself as well as all who meet him that you can't judge a book by its cover.
"I've often been shown prejudice because of my tattoos and my 'look' when I'm the complete opposite of what most people think," he says. "I've had people tell me my tattoos are blasphemy and have even had teachers come up and apologize for misjudging me because of how I look. Once anyone gets to know me, they realize I am a very friendly and open person."
But there have undoubtedly been times when "Johnny" hasn't always been so extroverted and self-confident. He grew up in Washington, living in at least 20 different places before he turned 20 and moving three times alone in third grade. So at an early age, he just stopped trying to make friends. Without a doubt, this and other factors made for a lonely, hard childhood.
"We were very, very poor and because we moved so much, I didn't even unpack at times," he says. "I didn't see the point in getting to know people after a while and became very anti-social. Then when I finally decided to get to know some people in high school, I noticed there was a lot of rivalry among those groups of friends and families where I lived, and it wasn't a good situation, so I withdrew again."
And that's how after graduating from high school Johnny lived for several years. He worked a variety of jobs, tried not to get caught up in the wrong crowd, and taught himself various hobbies like computers and cars. For him, going through the motions of life was all there was to life until 2008 when the unexpected happened: Johnny learned he was a father.
"It was pretty intense," he says. "My sister had just had a baby two days before I learned about Donovan, who was just about six months old, and so it was already a pretty intense time in life. But as soon as we confirmed the paternity test, I jumped right into being a father. Donovan lives four hours away, but I see him every few weeks, on breaks and in the summer. He is my world, and everything I do is because I want to provide for him the things I was never given as a child."
A series of events brought him to The Dalles in 2010, where he started working a string of jobs that often didn't pan out because he lacked a college degree. However, these professional experiences enabled him to realize his passion for business, so when an opportunity arose to apply for a scholarship at CGCC, he did just that.
Today, he's perhaps one of the college's most dedicated, driven students. A CGCC Foundation scholarship recipient, who will graduate Spring 2016 with his Associate of Applied Science in Management plus additional education certificates, Neptune exemplifies someone capitalizing on golden opportunities. He studies hard, takes full advantage of faculty, staff and student support, and has evolved into his own best advocate, someone who truly believes he can achieve his professional dreams, perhaps working for Google or Insitu in the Gorge and even owning his own business some day.
While he attributes much of his personal growth to what he's learned from CGCC students, faculty and staff, there's no doubt that he's also changed because of others he's met in the community. A couple of years ago, he started helping out at Under the Skin Tattoo and Body Piercing in Hood River. In exchange for occasional "pay" via tips and tattoos, he's learned a lot about the business, doing all kinds of little odd jobs from answering phones to sanitation and setting up food and toy drives. He's also lent that business some of his own self-taught talent for technology by helping the owners with their website for example. All this is more than a fair trade, says Johnny, who credits the folks who work there with empowering him to become more outspoken and proud of what he looks like, who he is, and what he believes. Consequently, anyone who meets him will say he's anything but anti-social or introverted today. He's become bold—even brazen—in a very good way.
Covered in tattoos, Johnny is bucking his family's conservative past, speaking up for himself, and doing whatever it takes to make a difference in the lives of those who matter most to him—his circle of students and teachers, those who've lifted him up in life, and, of course, the son about whom Johnny's world relentlessly revolves.