Climbing Tower on Campus!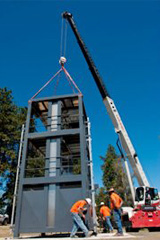 Climbing tower landing
July 24, 2012
Through a Department of Labor grant, Columbia Gorge Community College (CGCC) was able to purchase a training tower for the Renewable Energy Technology (RET) program.
This tower on The Dalles campus is a ten-foot by twelve-foot, twenty-four-foot high structure that allows us to provide safe, onsite training in climbing techniques essential to wind tower maintenance, and will be an essential part of the first-year RET curriculum. View more photos.