Brian Greene Named Interim Chief Academic Officer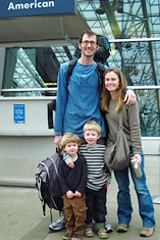 Brian and his family taking off for Panama
July 20, 2012
Mr. Brian Greene, previously a member of the instructional leadership team, has been selected as the Interim Chief Academic Officer for Columbia Gorge Community College (CGCC). Brian assumed this position on July 2, 2012, and will play a key role in helping CGCC pursue independent accreditation in fall 2013. He comes with an impressive set of leadership and management skills that will serve him well in this position.
Brian came to CGCC in June 2011 from California, where he was the faculty librarian for Columbia College. Brian has a Master of Library and Information Science (MLIS) from University of Washington and Bachelor of Arts in Environmental Science from Plymouth State University in New Hampshire.
Brian is eager to utilize his organizational and motivational skills to help CGCC move towards independent accrediatation next year. He notes that he is not to be confused with Brian Greene - Author, Physics and Mathematics Professor for Columbia University, though the similarities in appearance and "Columbia" ties are quiet clear.
Brian and his wife, McKenzie, have two sons -- Eason, 5, and Eliot, 3, -- and enjoy hiking, cycling and traveling.