Matt Fitzpatrick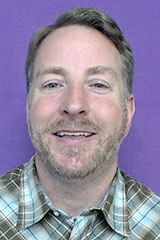 Matt Fitzpatrick
Pre-College Pathways & Transition Advisor
Title II Director
mfitzpatrick@cgcc.edu, (541) 506-6042
Office Hours
The Dalles Campus, Building 1, Room 1.338
The Hood River Campus, Building 1, Room 1.204
Background
Matt Fitzpatrick is grateful for the opportunity to work with adult learners and facilitate their success in the Pre-College department, the Youth Success Program, and Gorge Literacy.
He started his career working in adult education at a Benedictine monastery running their GED
®
and ESOL programs. This fulfilling experience inspired him to enroll at Portland State University where he received his Masters in Adult Education. After graduating, he worked as a writing and math instructor in a Trio program (a program for first generation college students) and a Vet's Upward Bound program. During that time, he also managed volunteers for a literacy organization while teaching in a GED program at a community college.
Matt finds rejuvenation and peace in the woods and tries his best to stay in one place though he struggles to do so as a former Army brat.