Types of Literacy Learners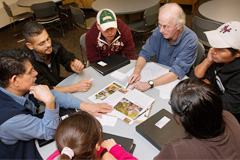 Start Learning:
Call (541) 506-6043
Adult literacy learners may be working on reading, writing or math skills to get or keep a job, or to get a promotion. Others may want to read books with their children. Still others may be learning English as a second or third language.
Many just want to be able to better navigate a world that relies on written communication.
Adult learners are courageous individuals who decide the time is now to tackle their greatest obstacle. All they need is an interested tutor who is willing to share the knowledge and skills that open the doors to the world of literacy.
Adult Basic Education (ABE)
Native English speakers who request tutor services to improve their reading, writing, math and/or life skills. ABE learners may never have had the right opportunities to pursue their personal, higher education, or employment goals. Some may have a learning disability while others may have a physical or developmental limitation and need to improve skills so that they might become more independent and better able to reach their goals.
General Education Development (GED)
Students who want support in pursuing their GED. They could be preparing for or already taking GED classes at CGCC.
English Speakers of Other Languages (ESOL)
Learners looking to improve their English conversation skills. They could be taking ESOL classes at CGCC or desire individualized help. ESOL learners can also be working on improving reading, writing, pronunciation, grammar and other skills once speaking is fairly fluent.
Citizenship
Learners looking for help establishing U.S. citizenship by taking citizenship exams.
Classroom
Tutors sometimes assist an instructor in a classroom setting. Tutors usually receive some direction from the instructor and then meet with students individually or in small groups during class.