About Gorge Literacy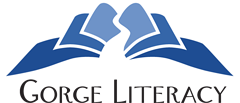 Gorge Literacy provides free tutoring services to adult learners (no longer enrolled in high school) within the Columbia Gorge, including: Wasco, Hood River, Gilliam, Sherman, Wheeler, Klickitat and Skamania counties.
Dedicated volunteer tutors help learners reach their goals and realize their potential within their family, work and community lives. We are committed to providing the highest quality, volunteer-based literacy services.
Funding
We are funded through a grant and contributions. Donate to help support Gorge Literacy.
The Importance of Literacy
Think of all the reading you may do in any single day: road signs, medicine labels, advertisements,  email, notes from school, weather warnings, voter information, this website, and so much more. Now think what it would be like if you were unable to read or understand these many things that you may take for granted.
Together, we can build a stronger community.
Literacy Facts
Adults who have not received high school diplomas are unemployed at nearly three times the rate of their peers with high school diplomas. (State of Oregon Employment Dept.)
The literacy levels of parents are crucial in predicting their children's literacy levels and educational attainment. (National Institute for Literacy)
More than 20% of adults read at or below a fifth-grade level, which prevents them from working at jobs with a living wage, hinders their ability to vote, and impedes their ability to read a newspaper. (National Institute for Literacy)