Library Policies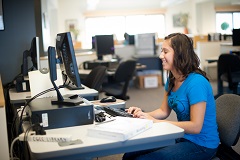 CGCC Photo/Michelle Bose
Borrowing and Circulation
| Item Type | Checkout Period |
| --- | --- |
| Books | 3 weeks |
| Books on CD / Music CDs | 3 weeks |
| DVDs | 1 week |
| Magazine Issues | 3 weeks |
| Interlibrary Loans (ILLs) | Variable, usually at least 3 weeks |
| Reserves | Library use only or 1 day |
Items may be renewed up to 2 times beyond the original checkout period, unless another patron has placed a hold on a given item.
Computer Use
The library provides access to computers and the Internet in support of the college mission. Students and community patrons are invited to use these resources provided they follow the college's Electronic Communications Systems Policy, which prohibits illegal activities, the harassment of others and damaging college networks or equipment.
To use a computer, log in with your library card number. If you are not a student, you can still use our computers; just request a guest pass from the desk.
Copyright
College Policies
CGCC Copyright and Fair Use Administrative Rule
CGCC Copyright and Patents Policy
CGCC Reproduction of All Copyrighted Materials Policy
Library Resources
Donations
Donated materials are welcome for consideration by the Director of Library Services regarding their usefulness to the college library. Donations must be accompanied by a completed Library Donation Form.
Fines and Fees
Overdue Items
The CGCC Library does not charge fines on overdue CGCC materials. Items more than thirty days overdue are considered lost and the patron is assessed a non-refundable $5.00 service fee.
CGCC patrons may be charged overdue fines by the lending library for overdue interlibrary loan items.
Lost or Damaged Items
Lost or damaged items incur a non-refundable $5.00 service fee plus the replacement cost of the item. Patrons are responsible for charges imposed by the lending library for lost or damaged interlibrary loan items.
Unpaid Bills
Patrons with unpaid library bills will have financial holds placed on their student records. The library and the college reserve the right to send unpaid bills to a collections agency.
Food and Drink
Food and drink is allowed in the library.
Minors
Children must be accompanied by an adult at all times while in the library. Community patrons under eighteen are welcome to use the library and check out materials when accompanied by a parent or guardian.
Overdue Materials
Students with overdue library materials or who owe $10.00 or more will be prevented from registering. Grades, transcripts and diplomas are held until items are returned and charges paid. Other collections fees, charges, and credit impairment may result.
Printing
| Cost per Page | Single-Sided | Double-Sided |
| --- | --- | --- |
| Black and white | $0.10 | $0.20 |
| Color | $0.25 | $0.50 |
The library has a print management system
Log onto the computer with your library barcode
Current students get $5 worth of free printing per quarter
If you have no money in your account, you can add more at the Library Help Desk.
Privacy
The library does not share patron information with third parties except as required by law or to facilitate interlibrary loans.
Public Patrons
The Columbia Gorge Community College (CGCC) Library is on The Dalles Campus and open to the public. The CGCC Library is a member of the Sage Library System, which means Wasco and Hood River County residents can use their public library cards to borrow items directly from the college library.
Washington State residents have several options for borrowing materials and should contact the library for details.