About the Library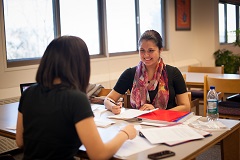 CGCC Photo/Michelle Bose
The Columbia Gorge Community College (CGCC) library offers extensive resources and services in support of the library's mission and the colleges academic programs.
The library's collections encompass a variety of print and electronic formats and include more than 20,000 books, thousands of ebooks, dozens of research databases with access to thousands of full-text journals and magazines, and a growing number of CDs, DVDs and streaming media.
Library services include library instruction, personalized research help, technical assistance and interlibrary loan (ILL).
Mission
The mission of the library is to provide quality library and information resources and services to students, faculty and staff in support of the curricular mission of the college. The library is an essential facet of the education process including student success.
Staff