Jennifer Christensen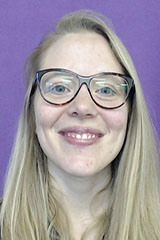 Jennifer Christensen
Financial Aid Coordinator
jchristensen@cgcc.edu, (541) 506-6029
Background
Jennifer began her education at community college and was hired there as a Scholarship Officer, helping students to find resources for funding their education, after being named to the 2004 All USA Academic Team. She now manages the Federal Work Study student employment program for Columbia Gorge Community College, serves on the Access and Diversity committee and as advisor for the CGCC Music Society. She also sits on the Oregon Association of Student Financial Aid Administrators (OASFAA) state legislative commitee, monitoring opportunities for Oregon student funding. Her interests include cross-country skiing, studying Danish, backpacking and practicing prescriptive harp therapy with Heart of Hospice or Mid Columbia Medical Center.
Education
Master of Science in Organizational Leadership - Human Resources Management specialization - In progress.
Human Resources Management graduate certificate, 2019.
Bachelor of Arts in Psychology and Honors Studies, 2006.
Victoria University of Wellington
Study abroad year - Psychology Research Methods, Intercultural Communications, Field Geology and Neuroscience, 2005.
Associate of Arts in Psychology and Honors Studies, 2004.
Certification & Memberships
Society for Human Resources Management (SHRM) Member.
Oregon Rural Community College Consortium Member.
Inclusion & Diversity Consortium of Oregon Community Colleges (IDC) Member.
Columbia Gorge Human Resources Professionals Group Member.
Awards & Recognition
2019 WASFAA Conference scholarship
2019 Columbia Gorge Orchestra Association (CGOA) Music scholarship