Institutional Assessment Committee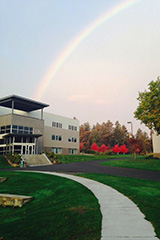 Rainbow over Building 3.
CGCC Photo/Cynthia Crampton
Mission
The Columbia Gorge Community College (CGCC) Institutional Assessment Committee fosters the integration of assessment, planning, and research in order to encourage the continuous improvement of academic programs, academic and student support services, and administrative services at CGCC. 
Goals
a) Build capacity for assessment and continual, data-driven improvement.
b) Provide guidance, training and support to all college departments in the development and integration of assessment activities.
c) Provide institutional data and findings from research and asessment to support institutional planning processes and decision-making.
d) Be a repository for college assessment data, analysis, and reporting.
e) Synthesize CGCC assessment activities and provide institutional review regarding quality of service and mission fulfillment.
Agendas and Minutes
Regular meeting times are 10:00am to 11:30am. Meetings are located in room 2.106 on The Dalles Campus.
2020 - 21
| MEETING | AGENDA  | MINUTES |
| --- | --- | --- |
| June 09, 2021 | Agenda | Minutes |
| May 12, 2021 | Agenda | Minutes |
| Apr 14, 2021 | Agenda | Minutes |
| Mar 10, 2021 | Agenda | Minutes |
| Feb 10, 2021 | Agenda  | Minutes |
| Jan  13, 2021 | Agenda | Minutes |
| Dec 09, 2020 | Agenda | Minutes |
| Nov 18, 2020 | Agenda | Minutes |
| Oct 14, 2020 | Cancelled | Cancelled |
| Sept 16, 2020 | Agenda | Minutes |
| Aug 19, 2020  | Agenda | Minutes |
| Aug 12, 2020 | Cancelled | Cancelled |
| July 15, 2020 | Agenda | Minutes |
2019 - 20
2018 - 19
2017 - 18
2016 - 17
| | Name | Title | Email | Phone |
| --- | --- | --- | --- | --- |
| | Sara Wade | Curriculum and Assessment Administrative Assistant | swade@cgcc.edu | |
| | Dan Spatz | Executive Director, Institutional Advancement | dspatz@cgcc.edu | (541) 506-6034 |
| | Mary Martin | Registrar, Veteran Services | mmartin@cgcc.edu | (541) 506-6025 |
| | Susan Lewis | Director of Accreditation & Assessment, Accreditation Liaison Officer | slewis@cgcc.edu | (541) 506-6047 |
| | Kristen Kane | Academic Assessment Coordinator, Psychology Instructor | kkane@cgcc.edu | (541) 506-6036 |
| | Courtney Judah | Director of Human Resources | cjudah@cgcc.edu | (541) 506-6151 |
| | Jarett Gilbert | Vice President of Instructional Services | jgilbert@cgcc.edu | |
| | Gerardo Cifuentes | Vice President of Student Services | GCifuentes@cgcc.edu | (541) 506-6010 |