Staff Milestone Recognition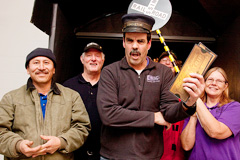 Contact
Courtney Judah
Director of Human Resources
cjudah@cgcc.edu, (541) 506-6151
Service Recognition
Staff members in recognition for anniversaries will receive a certificate and gift as outlined below. Milestone recognition for anniversaries will be announced at the All Staff Trainings in the Spring, Fall and Winter.
1-5 years: Certificate for the Class Act Café for a drink or personal size pizza.
5 years: $10 gift certificate from the Bookstore.
10 years: $20 gift certificate from the Bookstore.
15 years: Eight hours of "other paid leave" for full-time employees. Part-time employees will receive a leave allotment at a rate proportionate to their FTE status (rounded). Example: .65 FTE = 8 x .65= 5.2= 5 hours other paid leave.
20 years: Engraved picture frame or photo album.
25 years: An engraved item (box, bowl, etc.) valued up to approximately $50. An article about the individual will be submitted to The Dalles Chronicle or Hood River News and published in the Campus View newsletter (with individual's permission).
30 years: Select a $60 gift certificate to a location of choice.
The calculation of years of service for the purpose of this recognition begins at the first year as a staff member if the employee is transitioning from an adjunct faculty position. If the transition is from full-time faculty, those years of service will transfer into years of service as a staff member. An appropriate plan will be created for the transfer of years of service for adjunct faculty.
Retirement
Recognition of staff and faculty who retire/voluntary severance with 15 or more years of employment from CGCC.
Employees with 15 or more years of service with CGCC will receive a plaque and/or other commemorative CGCC items. They will also be formally recognized by the Board of Education. An article will be also submitted to the Campus View newsletter, The Dalles Chronicle and Hood River News (with permission from the employee) in recognition.