Your Rights and Responsibilities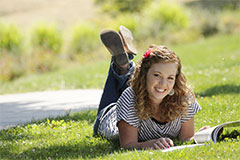 CGCC Photo/Michal Kawka
Your Rights
Related: Student Right to Know Disclosures
To know the college's process for determining the type and amount of assistance in your financial aid package.

For your application to be reviewed for eligibility for available funds.

To receive equity in applications of need analysis formulas with consistency across the college's full population of student financial aid applicants.

To know the deadlines for submitting application for each financial aid fund.

To know the location and hours of the financial aid office.

To know the college's criteria for selecting financial aid recipients and the process for determining your financial need.

To know the method and timing of payments to you.

To view your financial aid application and other documents.

To know the college's basis for determining whether you are making Satisfactory Academic Progress and what happens if you are not.

To appeal decisions made regarding your eligibility.

To the privacy of your information (FERPA) and privacy policies.

To have policies and rules applied that do not discriminate on the basis of race, gender, sexual orientation, disability, age, or economic status.

To deny aid offered if you will not be enrolled.

To change your expected enrollment prior to the beginning of a term.

To decline proceeds of a loan prior to its disbursement.

To reduce or cancel disbursed loan funds, acknowledging this could result in funds you owe the college.
Your Responsibilities
I Understand the Following
The Financial Aid Office reserves the right to review or modify my award in termination of my eligibility at any time due to changes in my status, inaccuracies in information in my records, or because of availability of funds.
That any form of aid offered through the college is made in good faith. Financial aid, however, may be canceled or reduced if funds become unavailable.
I am required to be enrolled in an eligible degree or program offered by the college or a two-year transfer program acceptable for full credit toward a Bachelor's Degree at a four-year college.
I must maintain satisfactory academic progress as defined in the financial aid Satisfactory Academic Progress (SAP) Policy. I understand that I must notify the Financial Aid Office of any changes in my status with respect to the receipt of additional educational funding from other sources. This includes scholarships, tuition waivers, agency benefits and third-party payments.
I must notify the Financial Aid Office of any changes in name or address, enrollment status or major program of study. I understand these changes may result in an adjustment to my financial aid award. I understand that federal regulations restrict the receipt of financial aid funds to attendance at one institution.
Under certain conditions I may be concurrently enrolled at two or more colleges which require an institutional Consortium Agreement signed by both institutions.
If I receive an overpayment of funds, withdraw, drop or stop attending class I may be subject to a repayment of financial aid funds. A portion of the tuition refund will be returned to the appropriate financial aid fund or to the lender if funds were received through the Federal Direct Loan programs.
I am responsible for reading and understanding the financial aid Return to Title IV (R2T4) Funds/Overpayment policy. I also understand and agree that the college has the option of withholding grade reports and transcripts if any repayment remains unpaid.
In accordance with federal requirements, federal and state drug convictions (but not local or municipal convictions) can disqualify a student from receiving FSA funds. Convictions only count against a student for aid eligibility purposes (FAFSA question 23c) if they were for an offense that occurred during a period of enrollment for which the student was receiving federal student aid—they do not count if the offense was not during such a period, unless the student was denied federal benefits for drug trafficking by a federal or state judge. A conviction that was reversed, set aside, or removed from the student's record does not count, nor does one received when s/he was a juvenile, unless s/he was tried as an adult. CGCC will notify each student who becomes ineligible for federal aid due to a drug conviction. For more information please visit the Federal Student Aid website and if you are unsure whether you should be ineligible for financial aid based on drug conviction please refer to the Student Aid Eligibility Worksheet. Additional questions can be answered by the Financial Aid Department at (541) 506-6021 or financialaid@cgcc.edu

.