SALT- Join Today!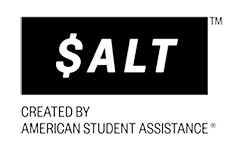 CGCC teams up with SALT to teach students and alumni how to get money savvy.
November 5, 2013
Columbia Gorge Community College has joined a growing list of higher education institutions nationwide to join SALT. This dynamic, multichannel financial educational program supports students and alumni as they finance higher education and manage their student loans. And SALT will always be free for students through the many financial decisions they face after they leave school. SALT will educate, empower, and engage members to truly own their finances by making it rewarding, easy, and fun to make smarter student loan and financial decisions.
If you have not already done so, create your account today at www.saltmoney.org. Some of the many fantastic features you can access are:
Student loan information and advice
Money smart tools with tips on credit reports, budgeting and more
Assistance finding the right repayment plan for you
Scholarship search
Job and internship search
For more information, contact the CGCC Financial Aid Office or follow SALT at Facebook.com/saltmoney or @SALT_Money on Twitter.