Dr. Joel Kabakov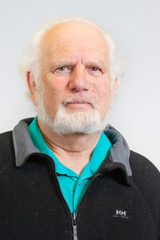 Dr. Joel Kabakov
Music Instructor
Background
Joel Kabakov, composer, guitarist, pianist and educator holds degrees in music from UC Berkeley, California State University and Harvard. His PhD thesis at Harvard is titled El Jaleo and is a dance suite for orchestra with embedded flamenco guitars.
While residing in Cambridge, Massachusetts Kabakov married principal dancer with the Jose Greco Company, Antonia Rojas. Together they have collaborated as composer-guitarist and dancer-choreographer with the Boston Symphony; Young Audiences lecture concerts; The Espana Institute at Boston Conservatory, where they both served on the faculty; The Methow Music Festival; M.I.T.; UC Irvine; Spokane Youth Symphony; La Miranda Symphony; the Frye Museum of Seattle; and numerous other venues.
Kabakov served as chair of composition at the Boston Conservatory from 1973 through 1978 concurrent with a Graduate Prize Fellowship at Harvard. He joined the Yamaha Corporation in 1979 as Director of Advanced Curricula and Instruction, and from 1980 through 1989 Kabakov was composer in residence at South Coast Repertory Theatre.
Joel has recently introduced the guitar and world music curricula to Columbia Gorge Community College (CGCC), where he serves on the faculty. Since moving to The Dalles in 2006, the Kabakovs have performed at such Gorge venues as Maryhill Winery, Erin Glen, The Pines, Klickitat Winery, The Lyle Hotel, and CGCC.
Education
Doctor of Philosophy in Music Composition, 1977
Master of Arts in Music Composition, 1968
Bachelor of Arts in Music, 1966