Oregon's CCR&R Online Professional Development Center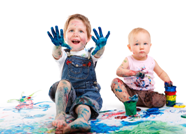 April 2, 2012
We are happy to bring you online training through the Child Care Aware Training Academy
Online means you take the training at the time and place that is most convenient for you!  Imagine having access to training 24 hours a day 7 days a week!  The Training Academy will offer two types of Child Development Associates (CDA)  and two types of Child Care Essentials (center-based and family child care).
We are pleased to offer the CDA and Child Care Essentials in Spanish as well! You can purchase the complete training option or individual trainings with a lower number of hours!  Once you complete the training and pass the test, your certificate for training hours will be created automatically on the computer.
All you have to do is print it and sent it in to where you need it to go for your registry step or licensing requirement!  Never has it been easier to meet your training requirements in the way that is best for you!