Early Literacy for Dual Language Learners Training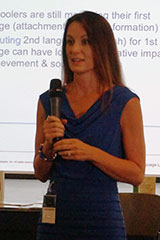 Dr. Dawn Hendricks speaking to Early Literacy for Dual Language Learners.
CGCC Photo
Early Literacy for Dual Language Learners Training Series
This series of trainings focused on working with young children who are dual language learners and their families. Topics included building collaborative relationships with families, supporting home language development, promoting optimal English language development and school readiness as educators prepare children and families for successful transitions. As a result of attending these sessions, participants were able to implement culturally and linguistically responsive teaching practices, develop a foundation in children's home language(s), practice research-based strategies for promoting English language development, identify children's stages of English language development, assess their progress and ultimately individualize instruction to meet the needs of all language learners. Materials from the series are available below.
Our Mission Statement
Establish a community of learning where all home languages and cultures are valued, parents are engaged as their child's primary educators, and multilingual education is embraced by families, educators and the community at large.
News Article
Training Inspires Record-Breaking Attendance
Handouts
Powerpoint Presentations
Session 1: Working with Young Dual Language Learners: Deconstructing the Myths, Applying the Research and Exploring the Benefits
Session 2: Promoting Home Language and Literacy Development for Young Dual Language Learners
Session 3 (Coaches): Advocating, Mentoring and Coaching- The Role of a Community Champion for Dual-Language Learning
Session 4: Examining Effective Teaching Practices for Promoting English Language Development
Session 5: Letters, Writing and Rhymes Engaging Dual Language Learners in Literacy Times