Electro-Mechanical Technology Alumni Testimonials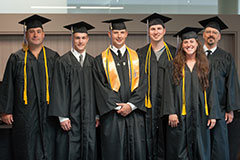 EM-Tech Graduates at 2014 Commencement
CGCC Photo/Michelle Bose
EM-Tech graduates are prepared to work in a broad range of industries including renewable energy, automated manufacturing, and engineering. Here are just a few examples of the diverse places where alumni work:
Saul Ascensio, 2017 RET graduate
Roads Department, City of The Dalles Public Works
"The RET program got me this job."
Wes Bliven, 2011 RET graduate
Senior Technician for Leaning Juniper Wind Farm near Arlington, Oregon
"During my time at CGCC, I most enjoyed learning about electronics and renewable energies. The RET program provided the foundation I needed to understand the wind industry and the equipment I work with as a Senior Wind Technician."
David Castle, 2012 RET graduate
Instrumentation Technician for a natural gas utility
"As an Instrumentation Technician, I use the fundamentals I learned through the RET program to ensure that all of the monitoring equipment for the natural gas distribution system is functioning properly. I was fortunate to work with many RET graduates after the program, and they all proved to be talented and dependable coworkers. The RET program was very beneficial to me—it got me where I wanted to go."
Grace Patton, 2013 RET graduate
Manufacturing Technician for an avionics product manufacturing company
"The RET program helped ignite a passion for troubleshooting and determining root causes of many technical and electronic problems. For my job, I diagnose and repair products, and this program equipped me with the confidence and problem solving skills to be a valuable asset to my employer."