Early Childhood Education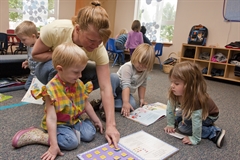 Contact
Mary Kramer
Dean of Career and Technical Education & Pre-College
mkramer@cgcc.edu, (541) 506-6033
Introduction
The overview information refers to both the Early Childhood Education and Family Studies Certificate and the Associate of Applied Science: Early Childhood Educaiton and Family Studies Degree unless otherwise noted.
The Early Childhood Education and Family Studies Certificate is related to the Early Childhood Education and Family Studies Associate of Applied Science degree, and, as such, all course work completed for the Certificate may be applied to completion of the AAS degree. 
Program Requirements
An intitial advising/information session with an Early Childhood Education and Family Studies Program advisor. 

Students entering into the ECEFS Program must demonstrate through transcripted record or by appropriate NEXT GENERATION ACCUPLACER test scores the ability to be placed into WR 115 and MTH 20 for certificate course work, and completion of WR 115 for 2nd year AAS degree classes.
Criminal History Check
All CGCC students enrolled in a health care or child care program, including Early Childhood Education and Family Studies, with requirements for practical experience of field training may have to pass a Criminal History Check (CHC) as a condition of their acceptance into a medical or other facility for training.
Students who do not pass the CHC will be unable to complete some course requirements and will be ineligible to participate in training at affiliated practicum sites, to sit for licensure or certification exams, or be hired for some professional positions. If you believe that your past history may interfere with your ability to complete the program of study or to obtain licensure, or certification in your chosen field, you should contact the appropriate state board or program director. 
Practicum Requirements
Students must meet practicum competencies for the certificate and the degree. Students may retake classes in order to meet the grade requirement with the exception of the following: 
ECE Practicum 1 (ECE 130B, ECE 124)
ECE Practicum 2 (ECE 130C, ECE 135)
ECE Advanced Practicum1 (ECE 260A, ECE 264)*

ECE Advanced practicum 2 (ECE 260B, ECE 265)*
Credits required depend on individual student competency as evaluated by ECEFS instructors.
To be considered for practicum, students must:
be enrolled in the Oregon Child Care Division, Central Background Registry
submit verification of measles immunization
submit verification TB Skin Test
complete a Food Handler's Certificate
hold current Infant/Child First Aid Card
Costs associated with required practicum documentation are the sole responsibility of the student. 
*Advanced Practicums apply only to the ECEFS AAS degree, not to the ECEFS Certificate.
Classes
| Course | Name | Credits |
| --- | --- | --- |
| ECE 101 | Exploring the ECE Field | 1 |
| ECE 120 | Introduction to Early Childhood Education | 3 |
| ECE 121 | Guidance & Classroom Management | 3 |
| ECE 122 | Environments and Curriculum in Early Childhood Ed I | 4 |
| ECE 123 | Environments and Curriculum in Early Childhood Ed II | 4 |
| ECE 124 | Anti-Bias Practices | 3 |
| ECE 126 | Early Childhood Development: Birth to Age 8 | 3 |
| ECE 130A | Practicum Orientation | 2 |
| ECE 130B | Practicum Seminar 1 | 1 |
| ECE 130C | Practicum Seminar 2 | 1 |
| ECE 134 | Practicum 1 | 2 |
| ECE 135 | Practicum 2 | 2 |
| ECE 177 | Multi-age Groups | 1 |
| ECE 179 | Child Portfolios in ECE | 1 |
| ECE 185 | Field Trips in Early Childhood | 1 |
| ECE 187 | Cooking Experiences for Young Children | 1 |
| ECE 188 | Block Play and Woodworking for Young Children | 1 |
| ECE 200 | Professionalism & Advocacy | 3 |
| ECE 221 | Observation, Documentation & Assessment | 3 |
| ECE 223 | Supporting Dual Language Learners | 3 |
| ECE 234 | Inclusion of Children with Special Needs | 3 |
| ECE 235 | Music & Movement for the Young Child | 3 |
| ECE 236 | Language and Literacy in Early Childhood Education | 3 |
| ECE 238 | Administration of ECE Programs | 3 |
| ECE 260A | Advanced Practicum Seminar 1 | 3 |
| ECE 264 | Advanced Practicum 1 | 4 |
| HE 262 | Children's Health, Nutrition & Safety | 3 |
| HEC 201 | Family-Teacher Partnerships and Community Connections | 3 |
| HEC 226 | Child Development | 4 |