Early Childhood Education and Family Studies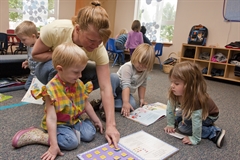 Contact
Mary Kramer
Dean of Career and Technical Education & Pre-College
mkramer@cgcc.edu, (541) 506-6033
The Early Childhood Education and Family Studies (ECE&FS) department prepares you for State Certification in Early Childhood Education. Courses can be used to fulfill training and education requirements for family child care providers and child care teachers in Oregon.
Our program is designed to accommodate both part-time and full-time students.
ECE&FS courses are offered every other year.
ECE&FS Program Requirements
Receive a grade of "C" or better in every required early education class in order to receive a certificate or degree
Meet practicum competencies for the certificate and/or degree
Produce a portfolio of classwork
Classes
| Course | Name | Credits |
| --- | --- | --- |
| ECE 120 | Introduction to Early Education and Family Studies | 3 |
| ECE 121 | Observation and Guidance I | 3 |
| ECE 122 | Environments and Curriculum in Early Childhood Ed I | 4 |
| ECE 123 | Environments and Curriculum in Early Childhood Ed II | 4 |
| ECE 124 | Multicultural Practices: Exploring Our Views | 3 |
| ECE 130A | Practicum Orientation | 2 |
| ECE 130B | Practicum Seminar 1 | 2 |
| ECE 130C | Practicum Seminar 2 | 2 |
| ECE 134 | Practicum 1 | 3 |
| ECE 135 | Practicum 2 | 3 |
| ECE 175A | Infant/Toddler Caregiving: Learning & Development | 1 |
| ECE 175B | Infant/Toddler Caregiving: Group Care | 1 |
| ECE 175C | Infant/Toddler Caregiving: Social-Emotional Growth | 1 |
| ECE 175D | Infant/Toddler Caregiving: Family/Provider Relationships | 1 |
| ECE 177 | Multi-age Groups | 1 |
| ECE 179 | Child Portfolios in ECE | 1 |
| ECE 185 | Field Trips in Early Childhood | 1 |
| ECE 187 | Cooking Experiences for Young Children | 1 |
| ECE 188 | Block Play and Woodworking for Young Children | 1 |
| ECE 200 | The Professional in ECE and Family Studies | 3 |
| ECE 221 | Observation and Guidance II | 3 |
| ECE 224 | Multicultural Practice: Curriculum & Implementation | 3 |
| ECE 234 | Introduction to Children with Special Needs in ECE & FS | 3 |
| ECE 235 | Music & Movement for the Young Child | 3 |
| ECE 236 | Language and Literacy in Early Childhood Education | 3 |
| ECE 238 | Administration of ECE & FS Programs | 3 |
| ECE 260A | Advanced Practicum Seminar 1 | 3 |
| ECE 260B | Advanced Practicum Seminar 2 | 3 |
| ECE 264 | Advanced Practicum 1 | 4 |
| ECE 265 | Advanced Practicum 2 | 4 |
| HE 262 | Children's Health, Nutrition & Safety | 3 |
| HEC 201 | Family Partnerships in Education | 3 |
| HEC 226 | Child Development | 4 |