NEA BIG READ Author Event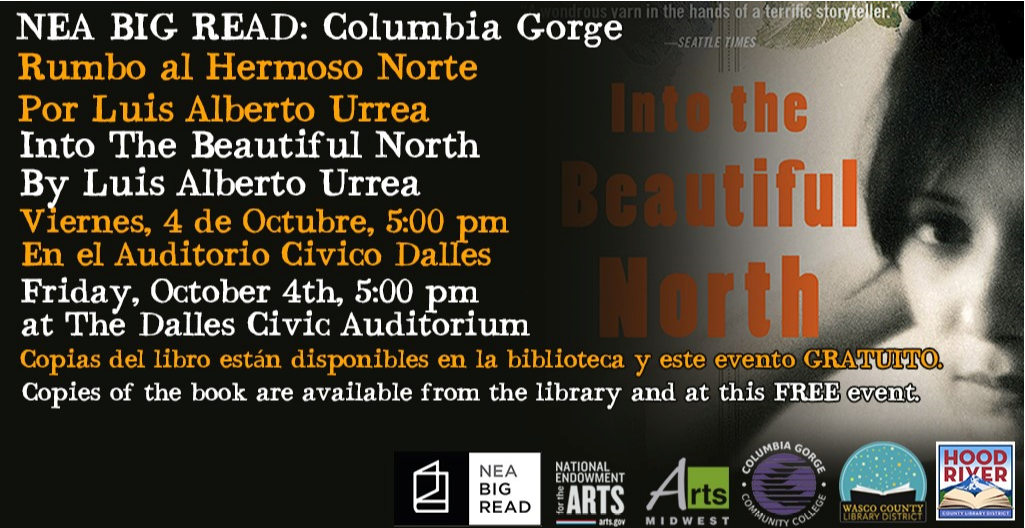 Author Event Facebook Photo
The Dalles Public Library
Contact
Dan Spatz
Executive Director, Institutional Advancement
dspatz@cgcc.edu, (541) 506-6034
October 4, 2019,

5:00 pm

to

7:30 pm
Civic Auditorium, 323 E 4th St, The Dalles, OR 97058, USA (map)
NEA Big Read: Into the Beautiful North
Award winning author and poet, Luís Alberto Urrea, will be reading from his book, Into the Beautiful North, to kick-off the NEA Big Read: Columbia Gorge.
Into the Beautiful North tells the story of an idealistic 19-year-old woman who is inspired by the film The Magnificent Seven to travel from her home in Mexico to the United States to enlist seven men who've left her town to return and help protect it from drug-dealing criminals.
This FREE event will take place at 5:00 p.m. on Friday, October 4th at The Dalles Civic Auditorium 323 E 4th St, The Dalles, OR.
There will be free copies of the book, in both English and Spanish, available at The Dalles Public Library, and the Hood River Library, as well as other locations.
The NEA Big Read is a program of the National Endowment for the Arts designed to revitalize the role of reading in American culture. For up-to-date information about all of the events, please see the Wasco County Library District Calendar page for the NEA Big Read.
(NEA) Asociación Nacional de Educación y Gran Lectura: Rumbo al Hermoso Norte
El galardonado autor y poeta, Luís Alberto Urrea, leerá su libro, Rumbo al Hermoso Norte, para inaugurar la (NEA) Gran Lectura: Columbia Gorge.
Rumbo al Hermoso Norte cuenta la historia de una mujer idealista de 19 años que se inspira en la película para viajar desde su casa en México a los Estados Unidos para reclutar a siete hombres que han abandonado su ciudad para regresar y ayudar protegerla de los delincuentes que trafican drogas.
Este evento GRATUITO tendrá lugar a las 5:00 p.m. el viernes 4 de octubre en el Auditorio Cívico 323 E 4th St, The Dalles, OR.
Habrá copias gratuitas del libro, tanto en inglés como en español, disponibles en la Biblioteca Pública de Dalles y en la Biblioteca de Hood River, así como en otros lugares.
(NEA) gran lectura es un programa del Fondo Nacional de las Artes diseñado para revitalizar el papel de la lectura en la cultura estadounidense. Para obtener información actualizada sobre todos los eventos, consulte la página del Calendario del Distrito de Bibliotecas del Condado de Wasco para la NEA Big Read.
Share you're going on the Facebook Event!    |    ¡Comparte que vas al evento de Facebook!